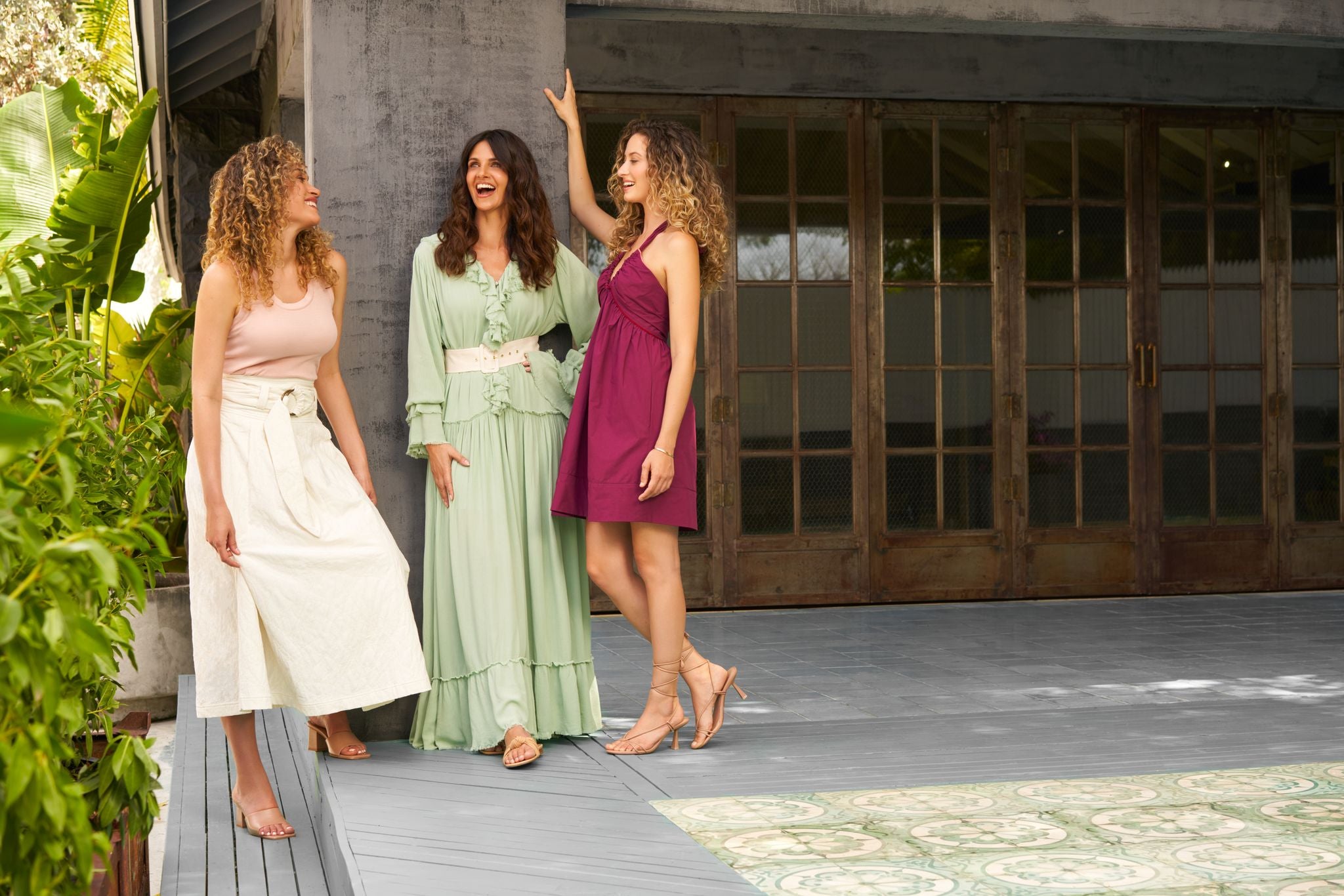 By Cleopatra Boudreau 
It's been over a year of making bread, homeschooling our kids, and buying a brand new wardrobe of "lounge wear." Over time, many of us have found ourselves doing our own thing. The beauty in all of this? Women all over the world have started to embrace a more natural side of themselves, including their curly hair. 
With weddings, barbecues and family parties filling up our calendars, it's the perfect time to step back into the world like the fierce woman that you are. If you're someone who's embraced your new curly look, you're probably pumped to slip on a cute outfit, give your natural texture a boost, and enjoy some well-deserved fun.
In the past, curly hair has gotten a reputation as being difficult to manage. Though it's true that curls ask for some love and care, it's because they're full of life. The trick to styling your curls is to know your hair type, curl pattern, and the routine that's going to work for your lifestyle. No two curls are the same, which is what makes them special. 
As many curly-haired women have been working from home, they've found themselves taking showers on their lunch breaks, and not feeling the need to dress up unless they have a meeting scheduled. Even then, they may not have been wearing a full work ensemble (hello pajama pants)! There's no denying that putting on some red lip and a little black dress can make a woman feel radiant. Rocking your natural texture, and giving them some love and care, can help you feel like a goddess no matter what outfit you're wearing. 
The idea that curly hair is any less professional or sexy as straight hair is - quite frankly - garbage. In fact, 65% of people in the United States have textured hair! Whether your Aunt Gail likes it or not, your curls are meant to be as free and wild as they want to be.
Seeing Curls on the Screen 
Up until recently, it was a rarity to see characters in the media with luscious curls. It's even rarer to have the characters be regarded as beautiful. The closest we'd get was tight not-brushed-out ringlets on Toddlers and Tiaras. As the media evolves to include diversity of all kinds, curly hair has become more common. Not just women with curly hair in general, but women with curly hair that's styled beautifully. 
The limiting beauty standards that we'd grown accustomed to are shifting. Though it has been a gradual and long overdue movement, more people are demanding to see women on screen that are representative of the world at large. Since many of us had very little to do other than binge-watch Netflix for a while, these shifts in casting are more apparent than ever. 
For too long, curly hair was used as a styling choice for women that were eccentric or "crazy." Think: Miss Frizzle, Hocus Pocus or any character with curly hair in the Harry Potter series. Now that we get to see women with curly hair light up the screen as love interests, heroines and bad asses - there's no going back. 
Let Your Hair Down
If you didn't grow up learning how to style your curly hair, it may feel like learning a whole new beauty routine. Feeling confident letting your natural texture shine can be freeing, empowering and shows any little ones in your life how to love the hair that they were born with.

When curly hair is treated right, it can actually be simple to style on the go. With the right hair care routine, healthy curls will fall into their natural place. Meaning you can give them a quick spruce, and head out to go on that date you've been waiting for all week. 
Finding Your Curl Pattern
So, the time has come to let your curls loose. You're ready to show your curls and never look back. You want the perfect care routine, the best products, and to get your curly hair's groove back. 
If you've long been someone who's heat styled your hair, or kept it pulled back out of convenience, you may not have a strong idea of how your gorgeous curls actually look when they're let loose. The time has come to rediscover your curl pattern. 
Lucky for you, there are many women who came before you to shine a guiding light on your curly hair journey. In order to give your curls the chance to reach their full potential, it's best to start from wet. Try using a sulfate-free curly hair shampoo and conditioner if you haven't already. Using a cotton T-shirt or a microfiber head wrap to dry curly hair, or let it air dry completely. By letting your hair completely do its own thing in the drying process, you can see how it forms curls when left to its own devices. Once you know exactly what your hair wants to do, you can decide how you want to play with it. 
Let's Heal That Heat Damage! 
Here's the catch: if you're someone who's been using heat styling tools regularly for a long time, your curls are going to have a little bit of angst going back to their natural pattern. Over time, the heat can damage the follicles in the hair, and the result might be a sort of wilted curl that looks like it's getting over a breakup. 
In order to revive your natural texture from the dead, try doing a heat detox. Think of it as a nice little vacation for your curls to rebound and refresh themselves. This is also a great way for you to reconnect with enjoying your curls on a day-to-day basis. As your curly hair bounces back, so can your relationship to them. 
Curls are Here to Stay
With us finally feeling like we're getting to the other side of the pandemic, it only makes sense to feel a shift in our perspective. Wholly embracing every inch of who you are - curls and all - is the way into a life full of whatever you want it to be. 
Curly hair bounces, twists, and dances to its own beat. It's a part of who you are, and you deserve to love them. It's time to shine through this Hot Curl Summer with our heads held high, and our curls flying free. 
The curly hair revolution is here to stay, and it's the perfect time to start showing your beautiful curls!