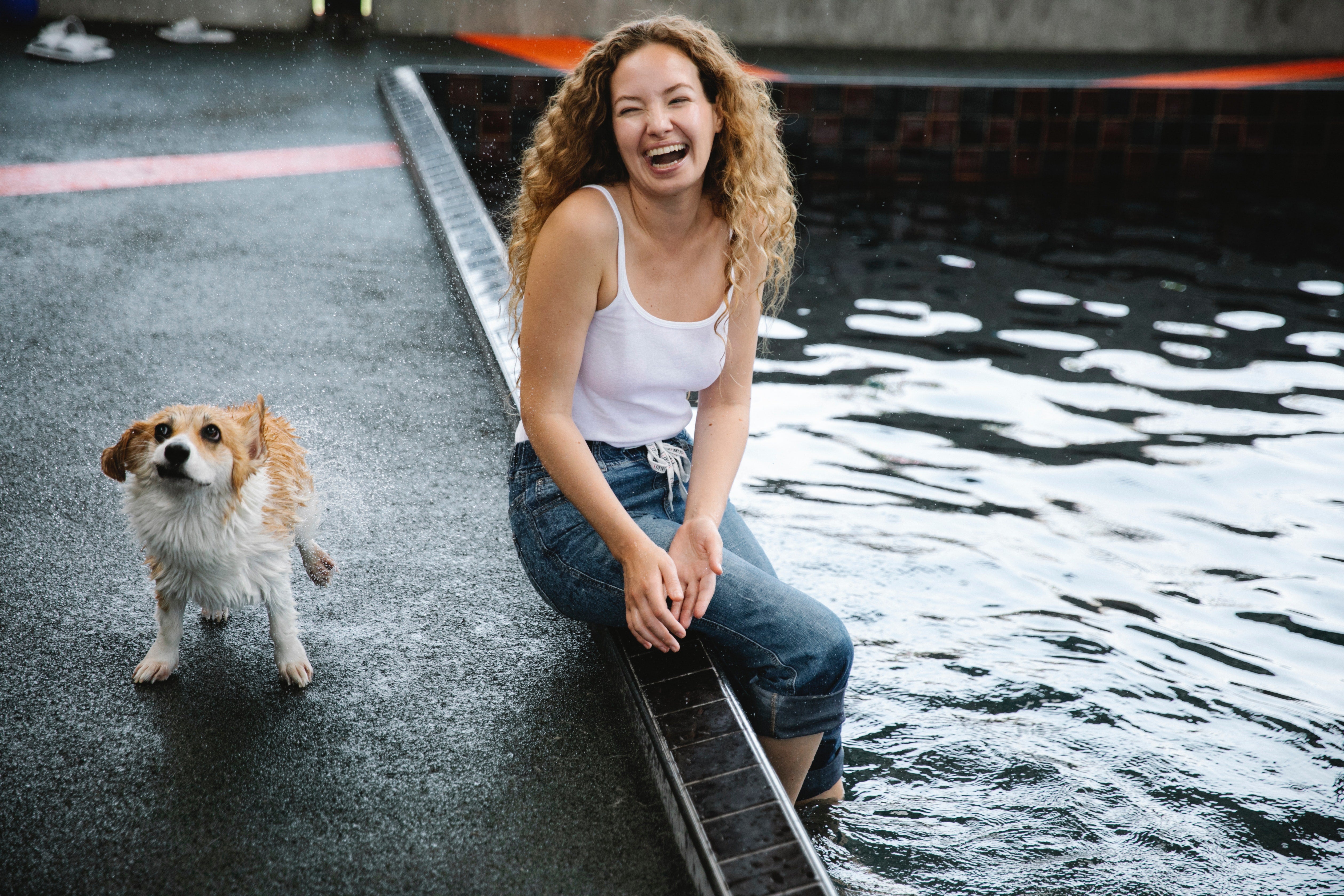 Picture this: you just finished getting ready to walk into a party with your curls shining, a beautiful smile on your face, and you feel confident being exactly who you are. You're in the best mood, you just know everyone is going to have a great time, and you toss your stunning curls over your shoulder with ease. It's the perfect night, and you feel absolutely gorgeous. 
Now, what could have gotten in the way of this perfect situation? Well, it may be that your ex-boyfriend was there, or your friend Annie had another meltdown. It could also be that your hair, though beautiful and bouncy when you left the house, may have gone through major changes on your way to the party. The styling that you had when you set out may have been a victim to the elements. Your curls were out of control and unruly by the time you arrived. You may have been distracted by your bobbie pins, your hair elastic, or the amount of crispy product in your hair. Curls have needs, and we are here to embolden them. 
Though there are many factors as to what makes our curls act unruly, heat and humidity are two tough guys that work together to be the biggest downers of all time. Though many people find that humidity can add volume to their curls, curly hair in humidity can become frizzy, tangled and fussy. It's the ultimate love/hate relationship. Here at Royal Locks, we believe a beautiful hot summer day should be exciting, not daunting. It's an opportunity for those amazing beachy curls and waves to radiate in the sun. And who doesn't absolutely love to radiate? 
The good news - whether your hair is wavy, curly or coily, you can give heat and humidity a run for its money. Curly hair in humidity can fight back. By cherishing your hair on a day-to-day basis, and using the healthiest products, you can stop heat and humidity damage in its tracks. It's as simple as using leave-in conditioner in your hair on a regular basis, and knowing what styling creams, gels or spritzes are going to give your hair the opportunity to shine. 
How Your Environment Affects Your Hair 
So what's going on exactly? Why does the heat cause your hair to change? Let me break down the different ways this happens, starting with environmental elements like heat and humidity. 
Environmental elements, such as your daily climate, can make a big impact on your hair's texture. If you live in an environment that is humid, mother nature is going to do everything in her power to make your hair puff up like Monica Geller's when she visits Barbados on Friends. This is because humidity causes the individual hair shafts to bulge, and it breaks down hydrogen bonds in the hair. The result? Swollen hair that may appear frizzy. On the other hand, dry and hot climates can lead to dry, brittle hair that breaks easily if it's not given enough TLC. 
Thankfully, with a little bit of our Party Curl Spray, you can know that your hair will do what you want it to do - even if the elements do their best to get in your way. This formula is designed to protect your curls from UV heat, tame frizz and reactivate curls, thanks to ingredients like dimethicone and argan oil. A little bit goes a long way to protect and define your royal locks. Curly hair in humidity for the win!
With curly hair, sometimes it can feel like you step out of the door looking one way, and feel completely different when you arrive where you need to be. It's important to remember those curls have gone through the same heat, pollution, and random Uber rides that you have. 
Styling Tools That Make You Feel The Heat
The science behind why heat-styling tools affect hair is relatively simple. Each strand of hair on our heads has an outer layer, called the cuticle. Thermal heat from styling tools quickly evaporates moisture in your hair in order to give it the shape that you may be looking for. This initially damages the cuticle, but over time, it can also affect the inner layer (called the cortex). This makes the hair strands weaker, and can lead to breakage. For people who use these products often, or everyday, the styling tools create damage that is more severe. In these cases, using something like a hair mask or oil treatment can deeply moisturize and soften damaged dry hair. 
If you're someone who has used heat styling tools -  like straighteners, curlers and blow dryers for years, then it's possible your hair is dying for much needed relaxation time. Though I love using a hair iron when I want to straighten my curls, taking steps to protect your hair first can make or (literally) break it. When hair is taken care of, heat styling is less damaging. Using a heat protectant before applying heat styling seals the cuticle, which goes a long way to protect those curls. Try a simple spritz of heat damage protectant before heat styling, or regular use of leave-in conditioner. These products coat the hair, and seal in moisture. They act as a barrier between your hair and the heat. Though this can't completely eliminate damage from using these tools, it can reduce it tremendously. 
Using a good leave-in conditioner, we like our Curl Rescue Leave in Conditioner, that includes strengthening proteins like hydrolyzed wheat protein can go a step further to help hair stay strong. Try it in combination with activating products, like our Party Curl Spray, to not only protect hair, but also leave your curls smooth and defined. 
UV Damage is a Thing
Even going to the beach can cause swelling in your curls. You may be surprised to learn that even those 6 hours of laying languidly on a beach towel can have a big impact on your textured hair, but it does. Similar to using heat styling products, UV rays from the sun can damage the outer layer of your hair. This can also lead to discoloration and the appearance of dry, unhealthy curls. Using a product, like our Party Curl Spray, you give your hair a fair shot at fighting back against the elements by protecting them against both heat and UV damage. 
The truth is - we all want to wake up and feel like our hair is stunning and glorious. When you turn over in bed and see the person you love, you don't want to be thinking - "does my hair look crazy?" By using preventative products on a regular basis, you can give curls the chance to be beautiful in every element.
It's Time To Fight Back — Curly Hair in Humidity
The ultimate key to fighting back against heat and humidity? A combination of both prevention, and damage control. Whether you're in Arizona, Kansas or on the Grecian Island that I'm dreaming of right now, your curls can still be at their most beautiful. Using the right products, like Royal Locks, can give your hair the opportunity to be your best sidekick, rather than your enemy. Adding a little bit of love and care to your daily self-care routine can ultimately lead to the greatest night of your life.
Though your curly hair may be impacted by heat and humidity, you have the power to challenge it.
By hydrating your hair with humectants that draw moisture into the hair shaft, you can help your hair absorb the water it's thirsty for and reduce dryness. Dry hair frizzes more easily. Moisturizing products with ingredients like dimethicone that will help seal moisture in and lock frizz out, so you can ensure that you will make the perfect entrance every time. Many people find that the key to the curls they want is finding the perfect balance of both. 
Here, we believe that your curly hair is part of what makes you beautiful, along with your dreams, ambitions, desires and goals. We hope you walk into every room feeling like a queen. No exceptions. 
If you struggle knowing what right products to use, know that your perfect formula may take time. In sum, we suggest regular use of Curl Rescue Leave in Conditioner for hydrating, repairing and protecting curls. We also suggest an on-the-go spray like Party Curl Activating Spray for regenerating and giving curls the ultimate boost, while protecting from UV/Heat damage and frizz. Pop it in your bag, and use it to revive your curls throughout the day for the ultimate glow. 
Have no fear, our curly hair products are there to save the day. Both will be back in stock in September! Know that you can feel proud of your curls, and how they make an impact. They're a part of who you are - and who you are is beautiful, unique and one-of-a-kind.