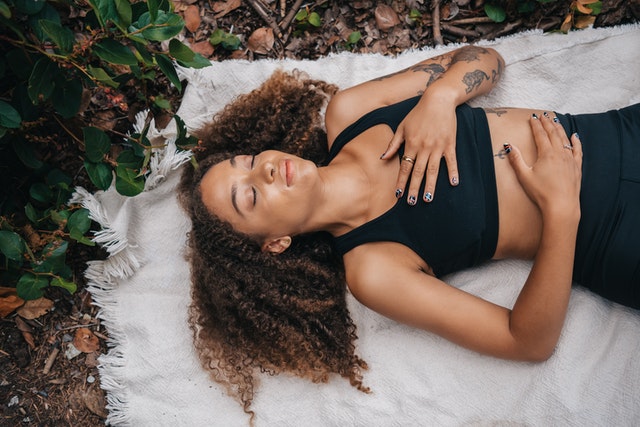 As people with curly hair know, maintaining the perfect curl overnight can be a challenge. Whether it's due to tossing and turning, using wrong hair products, or the drool hanging out of your mouth, you may find yourself waking up with a completely different look than the one you went to bed with. Whether you end up with hair that's gone flat, or (in my case) hair that makes you resemble George Washington, it's likely to put a damper on your morning routine. 
Though you may be tempted to brush out your curls and hope for the best, doing so can lead to breakage and cause lasting damage for your hair. On top of that, it's likely to leave you with a head full of frizz and poof that's unmanageable and will undo most of the effort you put in when you styling your hair on wash day. No matter how amazing your wash day routine is - the foundation of curly hair health - maintaining the right care as the days go on is important to keep your hair happy and thriving. 
Have no fear, Royal Locks is here (as always) to give you insight on how to protect your gorgeous locks while you slumber. Since many people with curls choose not to wash their hair everyday to protect and maintain the natural oils on their head, knowing exactly how to protect your hair while you sleep can be a turning point in your curly hair journey. 
Hands-On Solutions For Maintaining Curls Overnight 
To give you the best insight on how to keep curls overnight, I've rallied together a list of my favorite curly hair products and techniques. These techniques were developed to protect your hair, while also maintaining its definition. 
In order to best know what techniques will work for you, it's important to know what curl type you have. Not sure what curl pattern you're rocking? Take our Curl Type Quiz to find out. It only takes a few minutes and can help you understand what techniques will work best for you. Knowing your curl type can also help you develop a morning routine that will help you refresh hair in between wash days. 
Silk Pillowcases
If you haven't already taken the leap to try silk pillowcases, take this as your sign to do so. Fine woven fibers in silk pillowcases allow your curls to glide over the fabric, which reduces friction. This is great for your hair, as friction is what causes breakage and frizz. 
Silk pillowcases are also great for maintaining the health of your skin. Cotton and other fabrics used to make pillowcases are more porous, which means that they will absorb oil, bacteria and product from your hair. This then rubs off on your hair and skin in future sleeps. Silk pillowcases, on the other hand, absorb less oils from your skin and curls, so that they can retain more of their natural moisture. You really can't go wrong with this one. 
Works best with: all curl types 
Bonnets 
Silk bonnets are another great investment to add to your nighttime curl routine. These serve as a sort of "cap" to your curls. Bonnets are great because they add a boundary between your curls and the surface that you sleep on. They also hold curls in place on your head, which helps them maintain their shape. Simply place it over top of whatever hairstyle you've decided to sleep in, and get some beauty sleep. 
Bonnets retain moisture, reduce frizz and protect your hair from potential nighttime damage. They come in all different colors, and you can find ones that adjust to your head shape so they don't fall off while you're sleeping. Don't forget to keep your bonnet clean by washing it regularly! 
Works best with: all curl types
Pineapple 
The pineapple method is a go-to for many curly-haired people, due to its simplicity and effectiveness. It protects your curls from tangles while you sleep, and prevents your curls from getting flat. 
In order to make the most of this hairstyle, flip your hair upside down and gather it to the top of your hair. Use a loose hair tie or scrunchie to secure the hair. Your hair should look like - well, a pineapple. Since your hair has been secured loosely, you don't have to worry about getting a crimp mark from your hair elastic. 
Works best with: all curl types
Braids
A go-to for many people with curly hair (especially in the middle school days), is to braid hair and sleep with it overnight. This is a great way to prevent knots, and add additional texture for people who are looking to add loose curls to their hair. Applying a small amount of conditioning product can help the hair take the shape of the braids. 
For people with coily or tight curls, sleeping with braids is a great option for a prolonged protective hairstyle, but not if you're trying to maintain the shape of your natural curl definition. You're likely to find better results for a simple overnight routine with twists or other protective hairstyles. 
Works best with: wavy curls, classic curls
Twists and Bantu Knots
Creating twists is one way that many people with coily curls maintain their curls overnight, and prevent tangles and knots. Bantu knots take those curls, and wrap them into tight balls on the head in order to keep hair locked into place and prevent frizz and breakage. This is done by sectioning the hair into chunks, separating each chunk into two pieces, and twisting those sections around each other. Each section is then secured with a bobby pin or hair tie. These twists not only protect hair, but define curls as well. 
Bantu knots carry a rich cultural history, and they are often cherished by the Black community for being a protective hairstyle that can be done at home on your own. For people with coily hair, this hair style has meaning beyond maintaining curls overnight. 
Works best with: coily curls 
Leave-In Products
Applying a small amount of leave-in product to dry hair can be a good way to prevent hair from getting frizzy overnight, and can help curls maintain their shape no matter what dreams you have. Unlike when I was younger, you want to go sleep with hair that's moisturized but not wet. Wet hair can become brittle while you sleep, and can also allow bacteria to grow on your scalp. 
Finding a moisturizing product that isn't meant to be washed out is an important aspect of this technique. Using a small amount of Royal Locks Leave-in Conditioner, can help keep curls defined overnight while adding needed moisture. Other people also enjoy using hair oils that are formulated to add hydration over an extended period of time. 
Though this technique can work with all hair types, people with wavy curls or fine-textured curls may find that it results in greasy hair that needs to be washed more often. For tight curls and coily curls that are more prone to getting dry, this can help your curls stay moisturized and prevent breakage. 
Works best with: tight curls, coily curls 
How To Keep Curls Overnight 
As you can see, keeping your curls looking gorgeous overnight really involves some of the simplest techniques. With the right combination of products and styling, there's no reason you shouldn't be able to wake up, primp and get going with your day. Curls, like all of us, are perfectly unique. They just need some extra love and care to stay just wild enough to be authentic, and tame enough so they can fit in your hat. 
Looking for more curly hair techniques? Check out our other blogs. We're always looking to find new ways for you to embrace, love and cherish your curls.