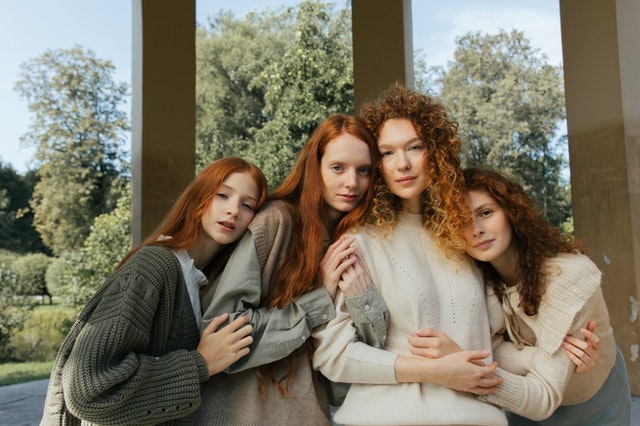 Here's the deal: I've already covered the perfect wavy hair routine for you gorgeous wavy hair goddesses, and given you techniques you'll love to get the waves you've always dreamed of. Now to bump up your styling routine even more, let's talk about the best curl enhancing products for wavy hair. This winning combination is what's going to be your ultimate wavy hair game changer. In order for you to get the head of hair that you've always wanted, I decided to break down three curl enhancing products and how they can bring out your natural curl pattern for the better. 
The reality is, waves have different needs than curls do. Though we are getting into the more nuanced details of the curly hair community, I personally believe that everyone deserves to find the perfect routine for their hair and lifestyle. Using a blanket guideline for everyone with textured hair is a sure-fire way to leave some people feeling disappointed that products didn't work as well for them as they thought they would. And that's something I don't want to see! 
So, if you need a nudge of encouragement to get to the bottom of your wavy hair needs - do it for me - your humble, curly-haired, blogging friend at Royal Locks. 
Leave-in Conditioner 
Most leave-in conditioners that are designed for curly hair will work for wavy hair, but there are some important things to keep in mind while you peruse the virtual aisles of whatever online shop you've been using lately. 
Why Waves Love Leave-in Conditioner 
First things first, you need to know why using a leave-in conditioner can make a difference for a wavy hair routine. 
Like all curly hair, wavy hair is at risk of getting dry, brittle and frizzy. This is partially due to the hair pattern preventing important oils from traveling down the hair shaft. A leave-in conditioner can supplement those natural oils to keep your hair healthy.

People who live in places that are especially dry or hot may have the most need for extra moisture and hydration. This is because these climates can continuously cause damage to hair that needs to be repaired, and protected against. 

Leave-in conditioner can repair damage from coloring and chemical straightening when used over time. 

Lastly, when used regularly, a leave-in conditioner can protect your precious waves from future heat styling and humidity.
For people with wavy hair, the key is to find a leave-in conditioner that is lightweight and won't leave residue in your hair, which will build up over time. This is what leads to a "greasy" look, along with limp, weighed down hair strands. The best curl enhancing products for wavy hair won't require you to use a lot of it. In fact, less is often more with products with high-quality ingredients. 
When it comes to leave-in conditioners, finding the right balance makes all the difference. Some products can overuse proteins, which results in dry brittle hair (which we know is not what you're looking for). Look for a leave-in conditioner that has amino acids for protein, and natural oils for moisture. If you start to notice any hair damage after regular use, you may want to take a breather from leave-in conditioner, or find a product with a more balanced formula. 
For people with wavy hair, leave-in conditioner can be a great way to help enhance curl patterns by repairing and protecting the hair follicles. Though an additional styling product like a cream styler or cream gel will likely be needed to add definition and texture to your wavy curls, using a leave-in conditioner can help them stay nourished continuously over time. 
The Royal Locks Experience: Since we know you're going to be looking for a leave-in conditioner that's lightweight and won't weigh your waves down or leave them greasy, the Curl Rescue Leave-In Conditioner is bound to become your new best friend. Simply distribute a dime-sized amount to clean hair, and allow it to work its magic. 
Unlike other leave-in conditioners that are full of misleading chemicals and additives, ours uses a formula designed to strengthen proteins in order to repair damage as well as protect against UV and thermal (hot tools) exposure, dry climate, and chemical treatments like hair coloring to keep hair moisturized and soft. 
Cream Gel 
For as long as I can remember, gel has been the go-to for people with curly hair. Since it has hold and can keep curls in place, many people have success using it as an aspect of their curl care routine. Used commonly with wet styling, a gel or cream gel has the ability to fight frizz, and bind curls together. 
People with wavy hair, however, sometimes find that using a gel makes their hair feel heavy and limp. Though it's sure to help fight frizz, cream gels are designed to make up for natural oil production that doesn't make it down the curly hair shaft. Since wavy curls have a less tight curl pattern, the oil is already able to make its way down. Using a gel or cream gel on top of that is more likely to cause hair to look greasy, and can cause smaller clumps to appear. 
Gels also are less likely to include ingredients that add moisture to the hair as it styles. Instead, it is designed to keep moisture out, and lock hydration in. For people with wavy hair that needs additional moisture, or if you're trying to repair your hair from previous damage, using a gel on its own may not do the trick. Instead, you'll want to pair your gel with a cream styler that moisturizes. 
The Royal Locks Experience: If you have wavy hair and prefer super defined wavy curls in your hair, don't let me stop you. Royal Locks Pro Curl Cream Gel is a product that was designed for most curl patterns. The ingredients include argan oil, which will help to moisturize your waves from within. Since it is a cream gel, it will still leave your waves feeling soft and touchable. 
Styling Cream
Styling cream generally has a thicker, buttery consistency. Though it also offers definition like gels do, it often aims to keep hair feeling soft and touchable. And the right, lightweight, styling cream won't weigh down waves or make them feel limp.
Styling cream works amazingly for waves because of the process of seam welding. Seam welding binds hair strands together, which then creates clumps throughout.
Why Waves Love Styling Cream
Styling cream adds much needed moisture to waves, giving them an extra boost and helping restore the hair strand from inside the follicle. 

One of the best ways to add texture and volume to wavy hair is by creating clumpy waves. Styling cream helps your waves form a gorgeous texture by bonding hair strands together. 

Styling cream adds volume and fullness by lifting hair off of the scalp. This is especially important for people who have fine waves. 

For many people with wavy hair, the greatest challenge with styling products is avoiding "stringy hair." Using the right cream styler can prevent the hair from separating and create waves that last all day. 
For many people with wavy hair, styling cream is the way to go. By combining a thick cream styler with the damp styling technique, you're more likely to get enhanced, frizz-free waves. Using a cream styler also works well to combat the look of your hair being straggly or thin,  which happens when the hair clumps into smaller sections. People with wavy hair usually want to prevent their hair from getting crisp, and that's easier to do with a styling cream. 
The Royal Locks Experience: When it comes to a cream styler, our Dream Cream is specially formulated to give your waves everything they need. Using this cream can give your waves separation and a chunky look, while moisturizing your hair with argan oil. And this particular styling cream works wonders when used with damp styling, which is the perfect way to give your waves extra volume.
The Best Curl Enhancing Products For Wavy Hair 
Ultimately, the best curl enhancing products for wavy hair are ones that are designed to add moisture, definition and volume simultaneously. It's important to keep in mind whether or not you plan on using wet or damp styling. 
For most people with wavy curls, damp styling and using a styling cream works best to add volume and definition. It's a tried and true method to add texture to hair and create sexy beach waves that would make the cast of Baywatch welcome you with open arms. 
If, on the other hand, you like a slicked down wet look - wet styling with a cream gel is going to be a better option. For people with a focus on frizz prevention, or who don't want to add any fullness or volume to their waves, this is how to do it. 
So - it's up to you! Some people with waves - especially those with medium thickness - also like to use both products together at the same time. If a friend was asking (which of course, you are), I would recommend they start with damp styling with a styling cream, and go from there. Since waves can lose texture as the day goes on, tend to fall flat, and get overwhelmed with too much product, this method often is a great launching off point. 
The best way to make the most of your styling cream is to use curl-friendly, sulfate-free shampoo and conditioner. If you're looking for a simple routine to give your waves life, use the Royal Locks Waves Curl Enhancing Set. With everything you need to give your wavy hair hydration and definition, you can use this set as a starting point on your wavy hair journey. 
Now, I want to hear from you! Do you have additional tips for how to make stunning waves a possibility? Do you have a different kind of curl pattern that you would want a similar list of recommendations for? Let us know in the comments! We're always happy to hear from the cuties in the curly hair community so we can give the best advice possible.