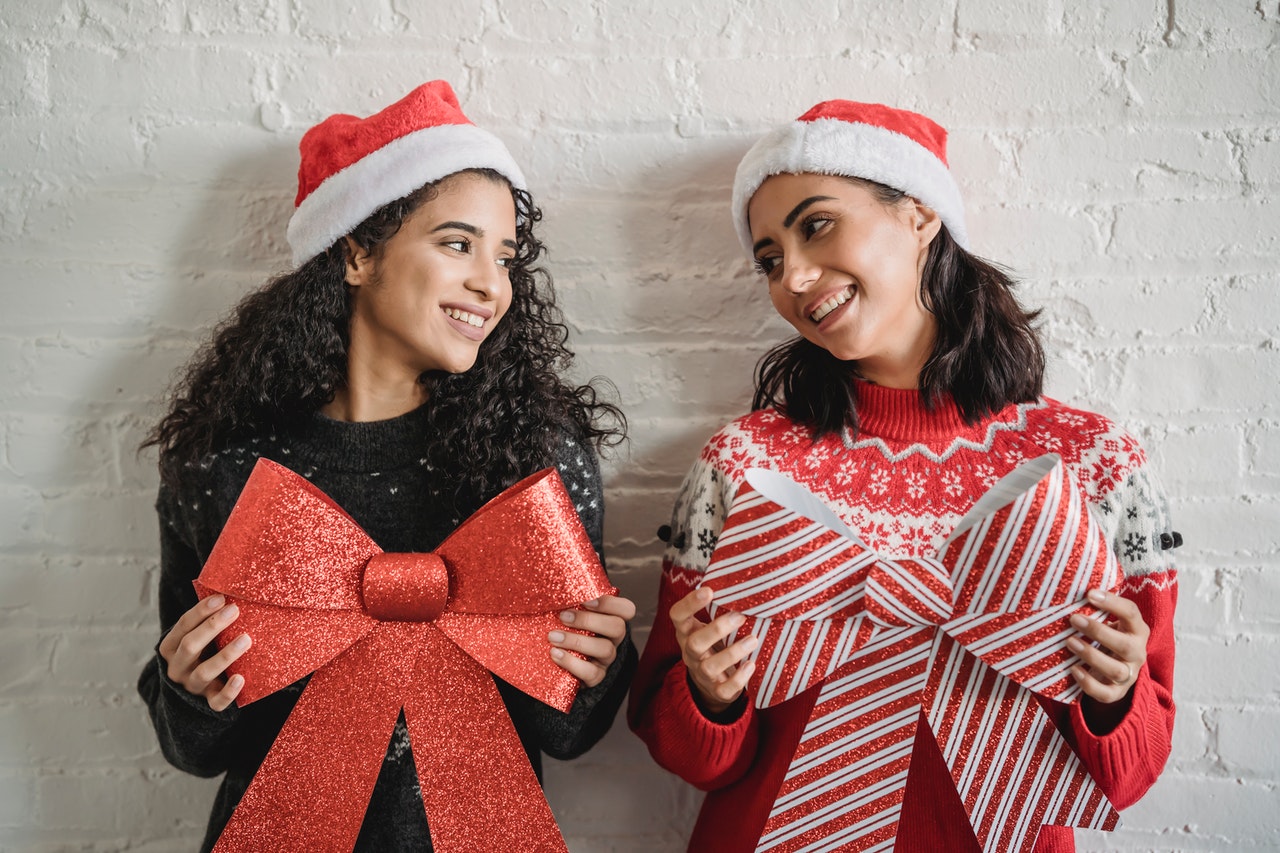 With holiday festivities right around the corner, you may be eager to find new curly hairstyles that can help you feel like the belle of the ball. The holidays are a time for care, comfort and celebration. Though you may end up spending some of that time relaxed, with your hair in a bun and snuggled up with your kids, you may also want to express your curls in a beautiful way to enjoy the festivities. Holiday parties only come once a year, and after the two years we've just experienced, you're probably eager to get back out there. We've got the perfect selection of easy curly hairstyles for the season!
The Classics
There are some classic curly hairstyles that come to most of our minds when we think about doing something special. The best holiday hairstyles are easy, allow our curls to thrive, and will hold up over the course of a lovely evening.
Easy Updos 
When we think about special occasions and our hair, we often think of updos. Though you may have had a professional stylist giving you the chic and effortless look at your sister's wedding, you may be wondering if you can achieve a similar result at home. 
Here's a simple updo that you can do on the go: 
Section off three pieces of hair and twist them into individual buns, pinning hair in place as you go. 

Pin the buns together. 

If your hair avoids structure like the plague, try using a 

small clear hair elastic when you're separating your hair. Then take the hair, twist, and pin. 

For a romantic, bohemian look, pull out some wisps near the front of your face. 

You can set your look with hairspray, and use styling cream or gel to slick down any flyaways. 
For any updo, whether you're hoping it will look "effortless" or not, using a strong hold styling cream like Royal Locks Dream Cream can help ensure your hair stays in place. 
Half-Up, Half-Down
The half-up, half-down look is a personal favorite of mine.  I love this look because it allows my curls to cascade down my back without too much fuss, keeps my hair out of my face, and it's one of the easiest curly hairstyles. It involves separating a section of hair at the top of your head, and tying or pinning it up so it frames your face (and stays out of the way). It's also a great option for anyone whose hair is in an "in-between" phase in growth. 
For a simple look that will add volume to your curls: 
Section your hair in two pieces. A good guiding principle is to use the top of your ears as an indication of how much hair should go into the high ponytail. 

Use a brush to smooth any bumps while continuing to hold the hair that will be tied. 

Tie the top section of your curls or waves into a high ponytail at the top of your head. 

Use your favorite styling product to smooth any flyaways. 
For an elevated half-up, half-down look: 
Separate the top of your hair into two sections, one on to the left of your face and one to the right.

Grab one section and twist this hair back around your head. 

Use a pin (or several) to pin the twist in place in the middle of the back of your head. Repeat on the other side, bringing it to meet the first side.

You can also do this with braids, or twist both sections into each other for a more "knotted" look. 
Bows
Nothing quite says "holidays" like bells and bows. For a fun festive twist on any hairstyle, try tying a bow in your hair. You can do this with almost any hairstyle to add a little "pop!" to your look (matching lipstick, anyone?). If you're opting to tie the bow yourself, look for a ribbon that's thicker and will be able to stay in place. 
For people with fine-texture hair, try using a hair clip  to pin the bow in your hair. The bow can sit at the top or base of an updo, or simply pinned on one side of your hair as it pulls your curls to one side. This adds holiday charm to even the simplest of curly hairstyles.
Add a Little Shimmer
A simple way to add some shine to any hairstyle? Add a little glam! There are tons of fun ways to add sparkle to easy curly hairstyles that will be sure to have you feeling like the queen that you are. 
Headbands and Crowns 
Using headbands and crowns that add elegance to your gorgeous curls is a fun way to accessorize for the holiday spirit. Though you may think of a crown and immediately imagine something large and grand, there are also dainty crowns and headbands that add a little sparkle without taking over your whole look. 
Crystal Hair Pins
One of the easiest ways to add sparkle to any hairstyle is to add crystal pins or clips. These can be used on any hair texture, and add a beautiful sparkle to your look. Simply pin these at the base of any updo, and feel yourself shining. For a more of a glittery waterfall effect, try popping in pins throughout your hair, rather than just in one concentrated spot. 
Tinsel
Yes, tinsel! Though shiny colored hair clip-ins have long become a trend from winter's past, hair tinsel has been a holiday favorite for some. To add a subtle shine to your hair, you can find both glue-in and clip-in hair tinsel that won't damage your hair. 
If you're planning on using any heat on the tinsel to have it match your hair pattern, make sure you purchase a heat-resistant product. 
Easy Curly Hairstyles With Your Spin On It
Whether you opt to add a little extra to hairstyles you already know, or try something completely different, the holidays are your time to shine. Your expression of your curls is your best accessory. Whether your holiday celebrations are full of board games and cookies, or cocktails and banter, there are easy curly hairstyles for every occasion. 
Looking for more information on how to keep your hair healthy during the changing seasons? Check out our other blogs. We're always putting out new tips and tricks to keep your locks royal.