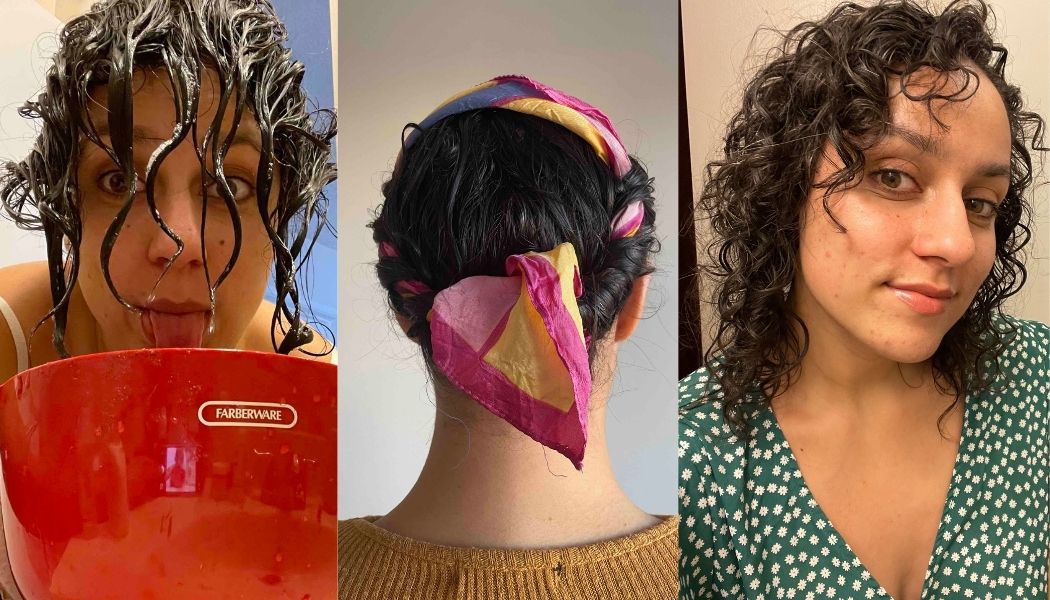 Hey there! I'm Cleopatra. Royal Locks blogger and gluten-free pizza lover. For the past 26 years of my life I've tried to find the perfect hair routine. I've had curls, waves, perma-friend straight hair and everything in between. 
Here's me looking adorable with puffy curls that just won't quit.
I have spent my fair share of time on the internet over the past few years, as I assume we all have. Like many, I have been utterly sucked into the glorious world that is… Tiktok. Cooking videos. Sponsored videos of someone's grandma. Annoying dances with songs that get stuck in my head. Epic love stories. Doja Cat. I love it all. 
In my social media binges, I have also come across another niche of videos that were designed to boost my serotonin - curly hair hacks. Countless videos came up on my feed of people who were finding new ways to style and care for their curls. After days of scrolling and being inspired by a plethora of badass content creators (fully horizontal in my sweatpants), I decided it was time to give some of them a shot. 
In a moment of Omicron-fueled chaos, I went through my saved videos, and found the ones I had promised myself I would try. I also did some additional sleuthing online to see if the so-called "hacks" had been backed up by science. The science I am speaking of is, obviously, other people on the internet who agree that it works. Through my super professional research I narrowed in on a few viral techniques for curly hair that I deemed worthy of you reading about. And alas, here we are. 
Alright, that's enough of an introduction. Not trying to make you scroll too long to get to the good stuff. What am I? A recipe for baked ziti (IYKYK)? Let's hop on the school bus and get moving. Seat belts everyone! 
The Bowl Method
This curly hair hack has gone absolutely viral for curly-haired people everywhere. It's been around for years (and for good reason), but this past year it gained a massive new following. The technique involves using your post-shower product, periodically dipping your hair, pulling it out, and then wringing the water out of your curls. This actively hydrates the hair and leaves you with gorgeous curls that stay healthy in between wash days (so they say). It's also supposed to dilute and distribute the product. People on social media swear that this prevents curls from getting frizzy.
At first glance, these videos kind of reminded me of the girl from The Grudge. The results, on the other hand, were anything but. Stunning curls that seemed to cascade down their backs, and look sleek and defined. One thing I love about learning these tips from people online is that they are real people. I feel more confident trusting someone teaching me a technique from the comfort of their own bathroom than a model in a commercial. 
I started by using a curl-friendly shampoo and conditioner, and then added a leave-in conditioner from my roots to my ends. I combed the product through my wet hair. Then off to the races we go! I dipped my head into the bowl, lifted, scrunched the curls up, and then repeated. Each time that I hovered my head over the foamy water, I had flashbacks of bobbing for apples as a third grader. 
Am I doing this right? I don't make it look quite as seamless as the Tiktok people did. 
I then used a small amount of styling product and slowly flipped my hair over. I let my curls air dry, but you can also use a diffuser. The result? 
DRUM ROLL PLEASE…
I look cute! My curls definitely soaked up the product. Without really doing anything during the drying process, my hair curled up and got super perky and bouncy. I tried not to touch my hair at all, and was able to do just a few palm pushes upwards from the bottom of the curl to get my curls to sit right. 
Though I do love how much this seemed to help my hair hydrate and absorb the product, it did create tight curls. By that I mean, my hair seemed to shrink to my scalp, which makes my hair look short. Though this isn't a major problem, I think I would like this look more if I could have a compromise of the two. Maybe that was my fault though. Any recommendations? 
I will also say this did take a little figuring out logistically. It was near-impossible for me to avoid dripping on my floor, and my cat seemed a little stressed every time I went missing in my water bowl (that's her problem though). 
One great thing I noticed about this curly hair technique is how long my curls lasted. I wore it throughout the day and didn't seem to lose definition or volume. I felt like a little Shirley Temple, bobbing around with my little curls working as an accessory. This method seemed to get a lot out of a small amount of product. 
For this technique, I'd recommend using Royal Locks Curl Rescue Leave-in Conditioner, followed by the Pro Curl Cream Gel. The two work together to add moisture and definition to curls without weighing them down or making them feel crunchy. 
No Heat Scarf Curls
This method has a lot of varieties - scarves, socks, scrunchies - you name it. Overall, the general goal is to use some kind of fabric to create curls or waves with no heat. I'd imagine this is to add ease to the process and prevent any lasting heat damage. The people who use this method swear they just tie their hair up around a scarf, secure it, fall into a perfect slumber, and wake up with perfect waves. We'll see about that. 
This technique for curly hairstyling reminded me of my curl-phobic days. I used to brush my hair, wet as can be, up into a tight bun on my head. Then I would watch American Idol with my family, eat some ice cream, get ready for bed, and hope that I woke up with the perfect beach waves. Though this method sometimes gave me the results that I wanted, other times it didn't. Also, sleeping with a wet, hard bun isn't very comfortable. It was a fickle routine that was ultimately replaced by wearing braids to bed, which was later replaced with heat styling tools.  
Side note: Did you know that sleeping with wet hair can actually cause mold? Uck. Casey, the owner of Royal Locks taught me that. Thank you for sparing me in my youth, Curl Gods!
I have to say, this look actually kind of looks stylish without even going for results. Well maybe not if you used a sock. But an awesome scarf? I feel like it adds a beautiful pop of color. I've been known to collect a silk scarf or two throughout the years, and I never seem to use them. Though I always imagine myself promenading through Paris with a gorgeous silk scarf around my neck - brie in one hand, red wine in the other - I never seem to fully take the plunge. This also seems like it could be an adorable look on days when your hair's a little greasy and you've run out of dry shampoo. 
Did someone say - Little Women? 
I thought I was going to have more trouble wrapping my hair around the scarf, but it was actually relatively easy. Since my hair is fine and slippery, I used a duckbill hair clip to secure the scarf on my head while I was wrapping my hair around the scarf. The process was similar to french braiding in the sense that I was gradually adding more hair as I went down the scarf. Each section got thicker, until I finally wrapped the bottom of my hair up, and moved the clip to keep it snug. 
After doing one side, the other was simple, and I was able to secure both sections together by wrapping the two ends together with the scarf. If you have especially long hair, you may need to use a hair elastic or some pins here to keep the scarf in place. Since the hair is wrapped relatively firmly to my head, it didn't feel obtrusive when I went to test if I would be able to sleep with it. Tiktoker - 1, pre-teen Cleo - 0. 
Alright, time to go live out that Paris fantasy in my dreams. Off to bed I go!
Good morning! I have to be honest… this isn't what I was expecting. 
As I mentioned, I wanted to be super scientific in trying these methods. None of the videos that I found using this technique mentioned using styling creams or gels, so I didn't dare use one before using the scarf. I will say, I don't hate this look. But it doesn't quite look quite as defined as it was presented to me. I fingered through a bit, and it does give me a sort of wavy, beachy look. 
Though initially I was feeling pretty good about how it turned out, as the day went on, it started to feel a little flat and a bit frizzy. Though I could use a styling spray or cream to try and revive it, I had kind of already accepted that this probably wasn't going to be a go-to of mine. After a full night with my beloved scarf sitting on my head, the look would've been set if it was going to at all. 
This technique is probably best used for people who have thick, straight hair. Unless you have hair that's known to be very good at following directions (which is not many of us with curly hair), using this technique with damp (not wet) hair and a styling product will lead to the best results. I'd recommended Royal Locks Dream Cream, as it's best used for adding a strong hold. 
The Drying Routine To Reveal If You Actually Have Curly Hair 
A step-by-step process called The Curly Girl Method (CGM) has taken the world by storm and shown people all over the world that their hair isn't frizzy, it's textured. For years, people have been brushing through their wavy or curly hair without any knowledge of how to allow their natural texture to come out of the woodwork.
Before we get started, it's important I set a ground rule. Your curl care routine is meant to be adapted to your hair type, curl pattern, and styling preference. For example, "pure" CGM has many steps and avoids all silicones. I tried it and found some of it worked for me, and some didn't. 
For example, my curls like silicones so I use them and developed my own version of the CGM which I will share with you, because I love you. Though I went through this process based on recommendations and experience on what works for my curls, you can make this technique your own. It's a process that's as unique as you are. The goal is to give your curls, waves or coils the best chance of thriving in their natural element. 
Step One - Wash Hair With Curl-Friendly Cleanser
I don't have a picture for this because, well… I don't want to bring you into the shower with me. I am, however, going to take a minute to chat with you about how important using a curl-friendly hair cleanser is, seeing as I'm basically a curly hair expert now. My diploma says "PHD in curl care routines, received from The University of Social Media."
Curly, wavy, and coily hair's natural shape makes it more difficult for natural oils to reach the ends of the hair strand. This means that our hair is naturally prone to drying out, looking dull, and losing moisture over time. When you use a product that has sulfates that strip even more of those natural oils (like many do), you're left with hair that can't reach its highest potential.  
Alright, there's my lecture. Take it or leave it. 
As I always do, I was sure to cleanse my hair with a sulfate and paraben free cleanse and condition set. When our hair gets warmed up, the hair follicles open up, making them porous and ready to absorb all the good juju that's in our cleanser. I took my time massaging both products in to make sure that the product has time to enter the hair follicle. It's when I condition my hair that I use my wet brush. 
Step Two - Wet Brush
I actually didn't learn about wet brushes from Tiktok. I learned about it by researching a blog I wrote on the perfect wavy hair routine. In true Aries fashion, I impulse-bought one immediately. I will say, it was nice to catch all of the hair that normally falls down my back and sticks to my arms. It also felt good to not have a mid-shower panic moment when I realized I forgot to brush my hair before getting in. 
Wet brushes are also great because they allow you to detangle your hair without causing any damage or breakage. As much as I love the satisfaction of furiously going at my knotted hair with a brush, I know that if I want my hair to be healthy, I have to be as gentle as possible. Breakage is the fastest way to get split ends and frizz, which I'm assuming we're all collectively trying to avoid. 
Step Three - Cast Your Curls 
GEL. I love gel. I used to work in a swanky restaurant in Santa Monica where we were required to slick our buns back to make the flyaways go away. I actually kind of loved looking like my head had been shined with grease. What I didn't love was coming home and washing out the crust every night. Or the fact that my bun started to leave a seemingly permanent dent in my hair. Anyways, I digress. 
Another viral social media trend has emerged that involves coating curls in gel, letting them dry and set, and then gently scrunching them to get softer curls. This is called casting. In many ways, it seems to go against the new wave of curl care recommendations. Many people are willing to compromise with some definition of their curls, in order for them to feel natural and touchable. 
When you set your curls in this step, you can use a gel, cream gel, or styling cream. It really depends on your hair type and preference. I opted to go for the classic gel route today. If you're not sure where to start when it comes to a styling product, take a few minutes to go through the Royal Locks Curl Type Quiz. 
I used a hefty amount of gel on soaking wet hair and then combed it through my hair. Then I immediately *plopped* it up (more on that in a second), and read a book while I waited for it to dry. 
I know you may be nervous that the post-drying scrunching will be enough to get rid of that *crisp* look and feeling. Don't worry, we'll get to that. If you do find that your hair still has a crunchy or wet look after the scrunch step, then try using a styling product that is already designed to mitigate a brittle texture, like a cream or cream gel. 
Step Four - PLOP
I love plopping. I also love that it's called plopping. Of all the things to call this very crucial curly hair technique, plopping is a hilarious choice. Regardless of the name, plopping is a technique that is very dear to my heart. 
Without plopping, you leave your curls at risk. To the elements, to your kids brushing by you too quickly and getting caught on your hair, and to yourself running your fingers through your damp hair. 
The great thing about plopping is you can use a cotton t-shirt, or a microfiber hair towel if you have one. It's a super accessible way to give your curls the shape you want and avoid using a blowdryer if you're trying to reduce the amount of heat styling tools you use. 
After applying your styling product to your hair with your head flipped forward, use the t-shirt or towel to catch all of your dangling curls or waves. Once you have your hair completely covered, tie your shirt or towel to secure your hair in place. 
Step Five - Scrunch Out The Crunch (SOTC)
The final step in achieving your perfect curls is "breaking your cast" or as I like to call it "scrunchy time." By gently applying pressure with your fingers and palms, you can release your curls from the binds of the strong hold of your styling product, and achieve defined curls that are still touchable. 
Rub curls in between your hands, scrunch the curls toward your head, and gently separate curls with your fingers. Though this step takes a little patience, casting prevents the need for additional products later in the day. By setting up curls for success as they're drying, and not waiting until after, you help them stay defined for a longer period of time. 
Some people also like to use hair oil to break their cast in order to prevent frizz and produce shine. You can use argan oil, coconut oil, jojoba oil, or any hair oil product that you love. By using a small amount in your palms as you scrunch, you can seal in whatever product you used in the drying process. This can also be done with leave-in conditioner for a soft, defined look. 
It's important to wait until curls are dry to start working on them in this way. If your hair is still damp and you're in a rush, use a diffuser for a quick dry. There's no harm in the occasional heat styling tool, just please promise me that you'll use a heat protectant product beforehand?  
Step Six - The Big Reveal 
Yup, feels like me. I've been using my version of The Curly Girl Method for a while now. Still a very big fan. Though I've tried different styling products along the way, I still think this is the best way to achieve curls that are both defined and touchable. Of course, the other techniques we've used today can be incorporated into your very own curl care routine! If you want to add a bowl soak in there, who am I to stop you? 
I always add in a few hair flips after "scrunchy time." This is partly because it's fun, and partly because I love when my hair looks a little wild. For me, it's the final step in softening up my styling product. I like adding a little chaos and puffiness to my hair. If that's not your thing, then I recommend you skip this step. 
During, and after hair flip. This is how committed I am to my research. 
Tip: Use a waterproof bonnet when you shower in between wash days. It will protect your curls from getting wet. By not putting your hair up in a bun, you avoid any unwanted dents or accidental water contact. Plus, the humidity from the steam alone can have an effect. And if you're on vacation and forgot to bring it with you? Just use a plastic bag! As my girl scout leader would say "be resourceful, and always be prepared." 
BONUS: Sleeping With A Silk Pillowcase
This isn't so much of a curly hair technique, as an easy way to give your curls a fighting chance. I, like many people on this earth, toss and turn every night. I am also a known blanket stealer (apologies to my girlfriend). The result is me waking up with hair that looks like I belong on Mount Rushmore.
For a little extra self-love I spritz my pillow case with some lavender essential oil mixed with water. After days of trying out different curly hair techniques, I think I deserve a nice long sleep full of dreams of being a curl goddess with henchmen who fan me with leaves. Add in an endless line of hairstylists ready to give me that super special hair washing treatment? Ah, bliss. 
Will I Keep Using These Curly Hair Techniques? 
Overall, I will! Some of the more extensive processes like "the bowl method" and scarf curls definitely won't be an everyday thing for me. More like a special Sunday night when I'm feeling like a self care queen. The pillowcase and wet brush, on the other hand, are simple additions to my hair care routine that I can be consistent with. And, as you already know, I am a big fan of plopping. 
What I have loved about this experience is realizing how many ways we can give love to our curls, and re-invigorate ourselves along the way. By using only a few, simple products, we can give our hair the look that we love. It's never too late to learn a new curly hair technique, and figure out what's perfect for you. 
If after reading this you want to know more tips and tricks, check our other blogs, and follow us on Instagram. You can also follow yours truly, and send me the results from you trying out these techniques. Let's be super serious hair scientists together. Or if you just want to follow me on Instagram to tell me how funny you think I am, that's cool too. 
That's all for now folks, but I'm sending love to all of you curly-headed cuties out there!