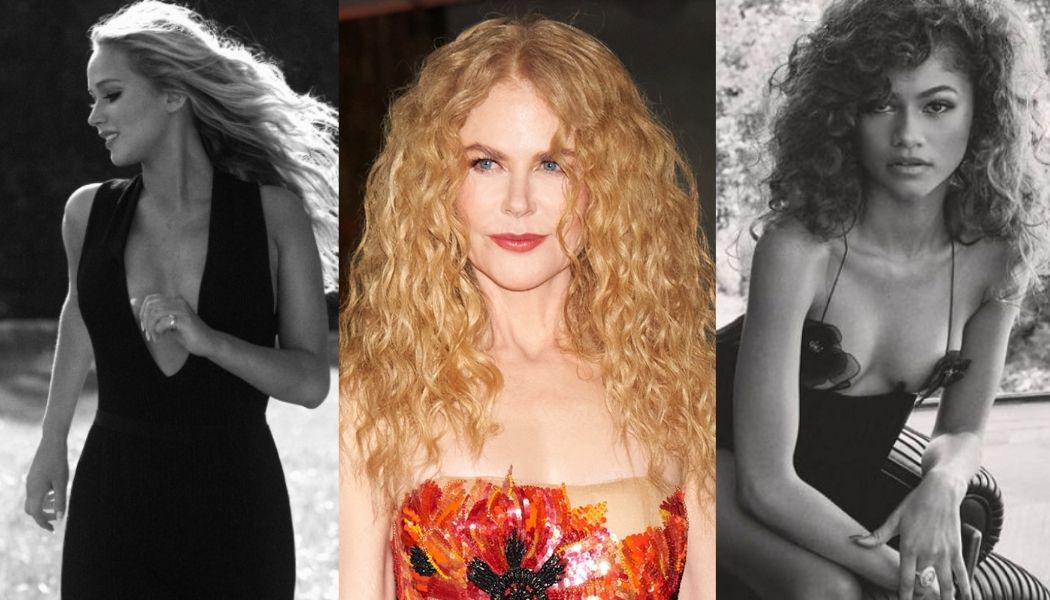 From red carpets to selfies, gorgeous curls can be found everywhere. Though we may not all have access to celebrity stylists, we do have the ability to make our curls shine every day of the year. With a pantry full of the right products, and a little time and care, your curls can look red carpet ready everyday of the year (even if you have no plans to actually step on one). 
To get us started on the right foot, here are some of our favorite celebrities with curly hair to give us all some inspiration going into 2022.
Zendaya For British Vogue
Zendaya, gave us sexy tousled curls in her 2021 shoot with British Vogue. Not only do her curls look soft and full of life, but the overall shape of this look is a combination of elegance and effortless glamor. 
This is one of her many dreamy curly looks from the year. Zendaya is a total queen when it comes to celebrities with curly hair.  
Nicole Kidman at the Museum of Motion Pictures Opening Gala 
We've seen Nicole Kidman rock countless looks over the course of her esteemed career. From her gorgeous red curls in Moulin Rouge, to slicked back updos on the red carpet. 
Attending the Museum of Motion Pictures Opening Gala, Nicole reminded us that curls can be the ultimate accessory. Looking stunning as always, she wore curls that were defined but wild in the best way possible. 
Harry Styles' Love On Tour Waves
Harry Styles may sport a shorter hair look than we've seen in the past, but his natural waves always find a way to pop out. Going on tour and performing for thousands of screaming fans may not be everyone's idea of a perfect Saturday night, but Styles makes it look easy. 
His 2021 celebration of music included his waves making an appearance whenever he did. Sometimes pushed back to frame his face, and other times his waves came out wildly. Either way, Styles reminds us that the sexy bedhead look will never go out of style.
Debra Messing's Curly Hair Selfie For Women's Equality Day
Perhaps one of the most iconic curly hairstyles to grace TV screens are Debra Messing's luscious red locks. Since her time on Will & Grace, Messing has continued to rock her curls in all shapes and forms. This carefree selfie was her celebration of her womanhood, and her work with I am a voter and Aurtate to celebrate women trailblazers in history. 
She's also been known to give her own curly hair tips to fans over the years, posting her natural curls with pride. Messing is a true testament to how taking care of your curls over time will help them look as gorgeous as you as you go through the triumphs of your life. 
Rihanna For Fenty Beauty 
Rihanna, an icon in her own right, has taken over the fashion world. Not only is she known as the queen of Met Gala Looks, she has made her mark with her awe-inspiring Fenty brand. Some fans looked on in wonder as she started the year with a freshly cut mullet. If anyone can rock a mullet, it's Rhianna. 
Proving that curls can look great in even the most unexpected of places, this shoot for Fenty Beauty celebrates her new "business in the front, party in the back" look in a way that screams power. 
Showing off slicked down bangs with wispy waves, Rhianna reminds us that there is strength in setting your own trends. 
Salem Mitchell's Gorgeous Afro Selfie
With the modeling world continuing to evolve, it's always wonderful to see models becoming more in control of the content that we see through their social media accounts. Salem Mitchell has slayed her looks this year, sporting a wide variety of hair looks that include braided updos, 
Not only has she given us inspiration for kinky hair, but she's also continued to document her journey in embracing her natural curls throughout the course of the year. 
Though Mitchell always looks breathtakingly beautiful, it's always amazing to see people enjoying their gorgeous curls and their natural curl pattern. 
Jennifer Lawrence For Vanity Fair

After taking a (very understandable) break from the public, Jennifer Lawrence has returned to grace us with a new captivating performance in Adam McKay's Don't Look Up. Pregnant, married and glowing, it's a new era for Lawrence fans everywhere. 
In this relaxed photoshoot with Vanity Fair, Lawrence gives us loose waves that can be best compared to those of a mermaid. Her look is very different from the sharp, red mullet she wears in the film, and her gorgeous soft waves are the perfect combination of beachy and volume. 
Finn Wolfhard For The Washington Post
They grow up so fast! Another man that's mastered the art of effortless waves is Stranger Things' star Finn Wolfhard. 
Looking cozy and comfortable in front of the camera, Wolfhard reminds us that men can rock curls and make it look seamless. 
Celebrities With Curly Hair Remind Us Of The Beauty Of Curls
Though this list is just a small portion of the celebrities with curly hair that made a statement in 2021, they remind us that curls come in all shapes and sizes. Your curls and waves are your own personal way of making your mark going into a year that is full of surprises, opportunities and blessings. 
Though these looks may serve as some kind of inspiration for you, the best way to love your curls is to find what works for you. Be your own inspiration, and find ways to emulate your curls in a way that you love. We hope this year is full of magical curls and wondrous celebrations for the entire Royal Locks community.