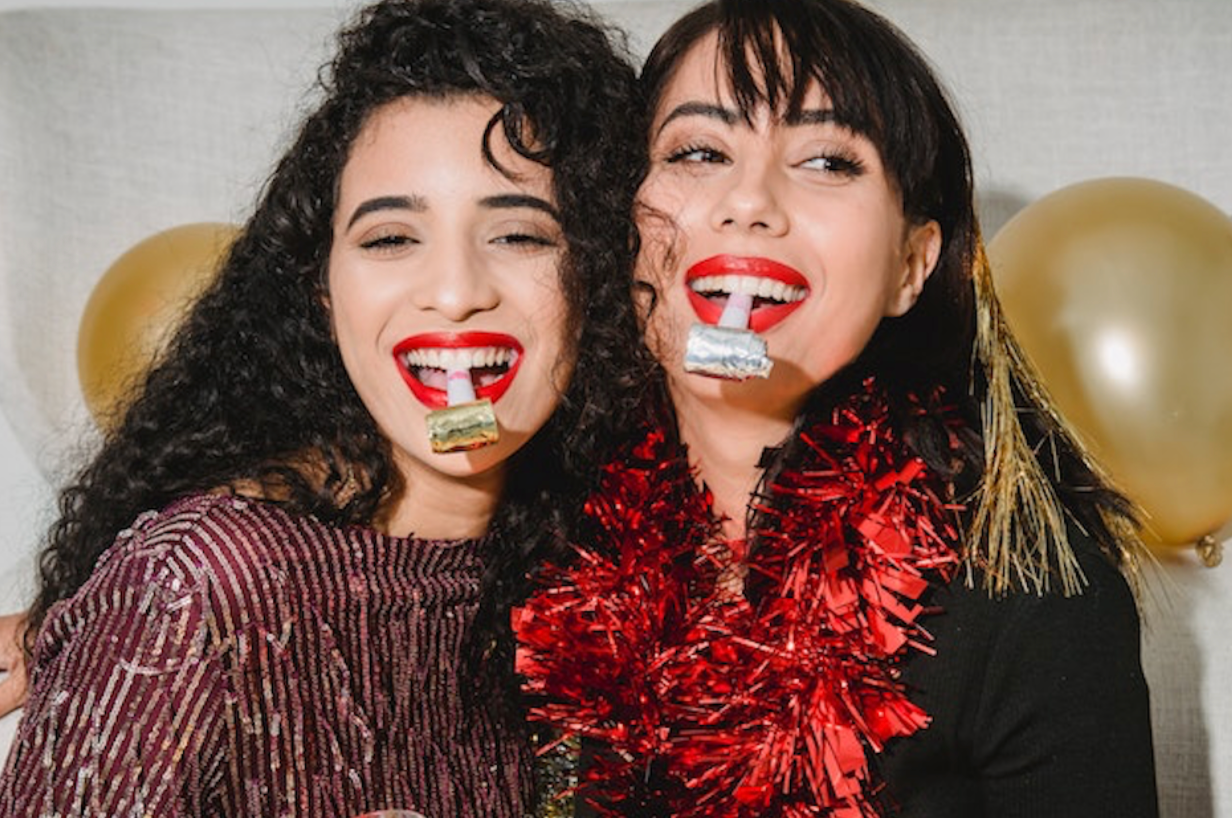 Your resolution takeaways: 
No need to get stressed about taking care of your curls! There are simple ways to give them their best year yet. 

Your curls or waves will get healthier, bouncier and maintain definition over time. 

The resolutions for your curls can be modified to meet the needs of your unique curly hair challenges.
I love the start to the new year. A glass of champagne (or three), glittery dresses, and the opportunity to give the person you love a big smooch when the clock strikes midnight. As we move past the initial beginning of the month promises from every company under the sun, you may find yourself feeling pressured to define all your dreams in just one word. The great thing about curly hair resolutions? It's never a bad time to start. Your curls and waves love consistent care more than anything. 
In order to give your curls a glow up in 2023, I've put together resolutions that are manageable, realistic and fit perfectly into the schedule of anyone's lifestyle. Here are 5 resolutions for your curls in 2023. 
Enjoying More Natural Curl Days
If you're someone who loves your curls or waves, but find yourself reaching for your heat styling tools more often than you'd like, try dedicating more days of the week to let your curls shine. By reducing your usage of heat styling tools or chemicals, you give your curls the opportunity to repair and restore their natural shape. 
In addition to letting your curls bounce freely, you can play with different hairstyles as a resolution for your curls this year. Letting your curls or waves be the star of the show is a great way to embrace your natural hair, and learn how to love them more throughout the year. 
Less Frizz, More Definition
For many people with curly or wavy hair, a common challenge is frizz. This can make you feel less proud of your curls, or less likely to let your hair down. The good news is that frizz can be treated and repaired over time. 
When textured hair is nourished, it's less likely to break and frizz as your day goes on. Adding a leave-in conditioner to your hair care routine helps your curls get additional moisture and hydration. Moisturizing and restorative products also help protect your curls against UV heat damage, which is more likely to cause additional frizz in the future. 
A Simpler Routine To Make Your Life Easy
When I first started figuring out how to transition to curly, my hair care routine doubled in products, and doubled in time. In my mind, the more products I used, the better my curls would be. I quickly became tired of spending so much time in the morning to get my curls "just right," and it was starting to get expensive just to upkeep my curls. Finding products that are designed for curly hair and combined crucial steps in my routine was a major game changer. 
If one of your resolutions for your curls is to find an affordable hair care routine that won't take you an hour and a half in the morning, finding a customized set is your best bet. Rather than finding different products for every curly hair need, you can use a set of products that have specially designed formulas for your curl care. For a hair care solution that will work for your curl type, check out our Royal Locks Essentials Sets. 
Less Breakage, More Growth
Whether it's because you want to stop finding stray hairs on your pillowcase in the morning, or because your hair breakage is causing your curls to look frizzy, finding ways to minimize it can help your curls thrive. 
Curly and wavy hair is more likely to break due to their natural shape making it more difficult for natural, healthy oils from the scalp to make their way down the hair shaft. The best way to combat this is to ensure that you use effective hair products, along with protective methods and hairstyles to ensure that curls can maintain their health and length. 
Here are some simple tips to prevent breakage, and encourage your curls to grow: 
Only detangle your curls or waves when they're wet

Use a satin or silk hair bonnet while you sleep 

Give yourself scalp massages while you cleanse your curls. It's been proven to stimulate hair growth, and it feels amazing!
Loving Your Curls Everyday 
My personal favorite resolution? Finding ways to love your curls everyday. By taking time this year to nurture your curls, restore their health, and help them look fabulous, you can end 2023 with more confidence and a gorgeous head of hair to match.