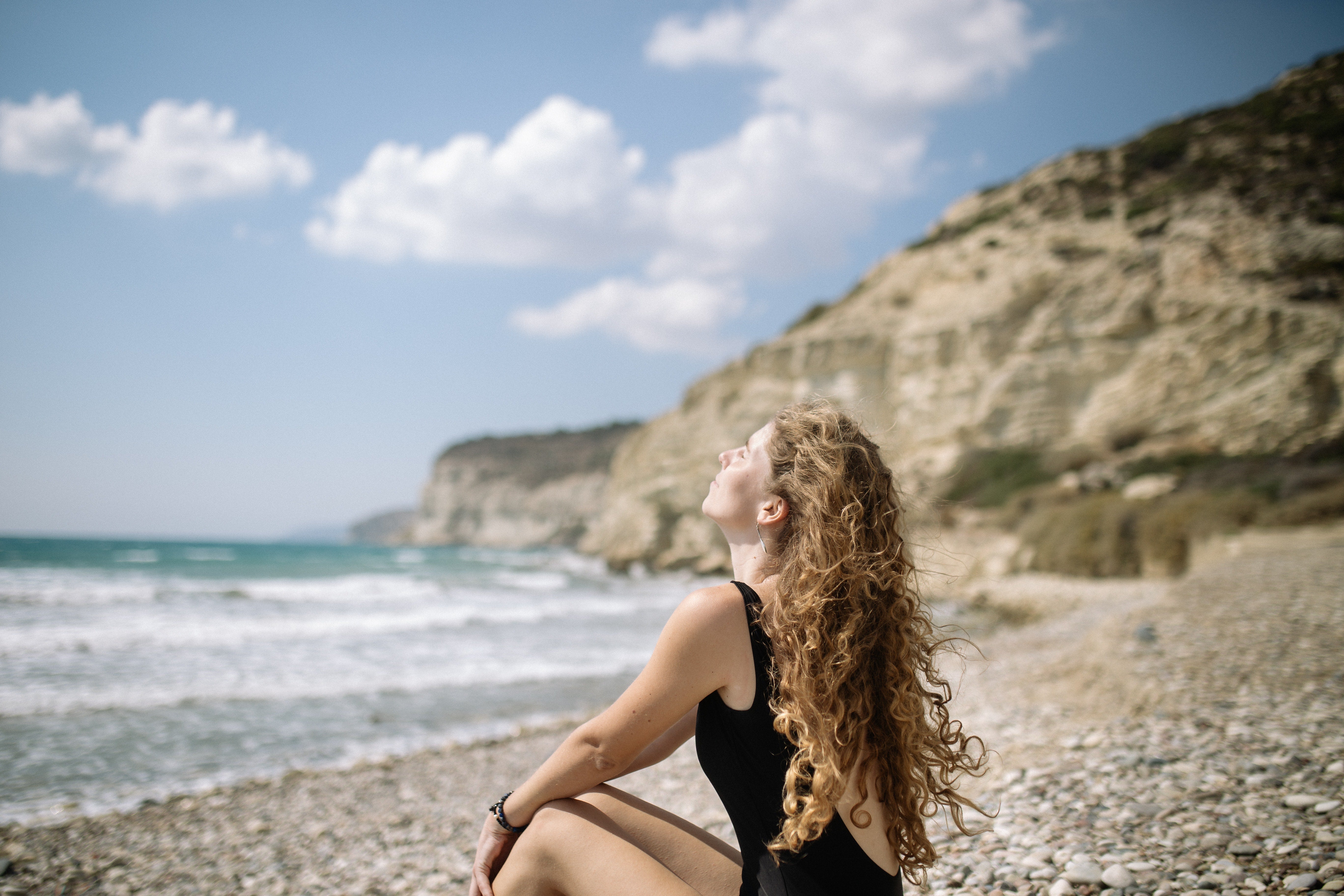 Your Key Takeaways to Protect Your Curls in the Summer: 
There are some simple ways you can prevent damage and protect your gorgeous curls while you galavant in the sun this summer. 

Use moisture-rich products throughout your entire hair care routine.

Stay hydrated.

Find fun accessories that will prevent your hair from getting sun burned.
Ah, summer. A time to eat ice cream, read books in the sun, and aim to eat exclusively on patios. It's a time to dream. A time to chase your kids around. And, of course, a time to let your curls and waves fly into the wind. I know I sound a bit like I'm starting a romance novel here, but I'm very passionate about that glorious time that starts in June and ends in August. 
Every season presents its own set of nuanced hair care challenges, but all are easily swerved if you know how to tackle them. Even though I want you to have a summer full of fun adventures, I also want you to have my faint, friendly voice in your ear saying - "protect your curls in the summer." 
Moisturize And Supercharge Your Curls
One of the best ways to prevent heat damage is by setting your curls up for success. Using products that contain moisturizing ingredients like Moroccan argan oil can help repair, restore and protect your hair all year round. By nourishing your curls from the inside out, you give them the strength to avoid unwanted sun damage. Stay hydrated (more on that later), massage products thoroughly into your hair, and consider staggering your wash days to combat dryness caused by sun exposure. 
Strong UV rays can actually burn your hair the same way it can burn your skin. By implementing a hair care routine that has a solid foundation, you can give them the protection they need to spend a day in the sun unscathed. Start with a sulfate-free cleanser and conditioner that won't strip your hair's natural oils, and don't skip out on your leave-in conditioner. Try adding Royal Locks Curl Rescue to your hair care routine to give your curls some extra love. It's also not a bad idea to occasionally pamper your curls with a curl-friendly hair mask. 
Another pesky thing to look out for? Chlorine. Though a dip in your friend's pool is always a refreshing way to spend the afternoon, chlorine can strip natural oils out of your hair. Since curls and waves naturally have trouble getting an even distribution of those important natural oils, limiting chlorine exposure can help prevent your hair from getting dry or brittle. Try putting your hair up and keeping it dry if you're simply looking to wade in the water. And if you feel like doing a deep dive today, consider using a swim cap and make sure to cleanse your hair as soon as possible to give the chlorine less time to wreak havoc. 
Show Humidity Who's Boss
Though curls and waves always crave moisture, hotter temperatures pose a special threat to all of the love you've given your hair in the past. This is especially true when the weather is humid, and the extra moisture in the air can find its way into your hair strands. This can lead to frizzy, undefined curls that are prone to breakage. 
Humidity in the air causes your hair follicles to bloat with water particles, which is why some products will seemingly lose all their power over the course of a couple hours on the beach. By using curl-friendly products that are designed to lock moisture in, and keep external moisture out, you can maintain your curls without any hassle. Look for products with strengthening proteins that are designed for curly hair. Royal Locks Pro Curl Cream Gel and Dream Cream both have moisturizing ingredients that leaves hair feeling touchable while still being tough against humidity.
For more information on how to fight back against heat and humidity, check out our blog all about that here. 
Handle Your Hair With Care
Since curls and waves are naturally more dry than straight hair, being gentle is important to prevent breakage. This is especially true when the sun is hot, and your hair may be a little more cranky than normal. 
Right after you step out of the water, your hair is at its most vulnerable. The hydrogen bonds in your hair shaft are weaker when they're wet, which allows them to stretch. Unfortunately, if stretched too far, weaker parts of the cuticle can snap. This leads to breakage, and frizz.  
To give your curls and waves the best chance of survival, try using soft scrunchies, and avoid handling your hair with too firm of a grip. Try not to put up your hair when it's wet, and be as gentle as possible when you're in the process of de-tangling. If you're looking to fight against frizz during the summer, try a few squirts of Royal Locks Party Curl Activating Spray. Designed to fight against harmful UV rays, fight frizz and give your curls a boost - this spray is the perfect addition to your summer tote. 
Keep Your Body Hydrated
At the risk of sounding like your mother - drink water! When your body isn't getting enough H20, your hair and nails are the first to feel the shift. By making sure that you continue to offset the heat with a gulp from your water bottle, you give your body what it needs to give your curls a boost. 
I know we're talking about how to protect your curls in the summer here, but staying hydrated is a great way to nourish your body in general. On hotter days dehydration is a bigger risk factor, which can cause fatigue, dizziness, digestion issues and mood swings. 
If you have trouble drinking enough water on a daily basis, try adding cucumbers or lemons for a fun twist! Your body (including your curls) will thank you. 
Make Use of Your Accessories
A sexy sun hat never hurt anybody! Plus it can really hone in on your sarong wearing, picnic basket goddess moment. Using hats or scarves can be a great way to protect your waves and curls from sun exposure, even if used intermittently throughout the day. For extra curl protection, try a hat with a satin liner. This can help prevent unwanted "hat hair" for frizziness, and help your curls maintain their shape while you sip on lemonade.  
Another perfect beach accessory? A sun umbrella. Inexpensive and effective for giving you some shade on even the sunniest days, an umbrella can help alleviate some of the sun exposure to your hair. Why not lay under the shade while you sip on a mimosa and wonder why it can't be summer all the time?
For more tips on how to get the most from your curls, check out our other blogs on The Curly Edit. I hope you all have a summer full of wild curls, sunny afternoons and at least one ice cream cone.