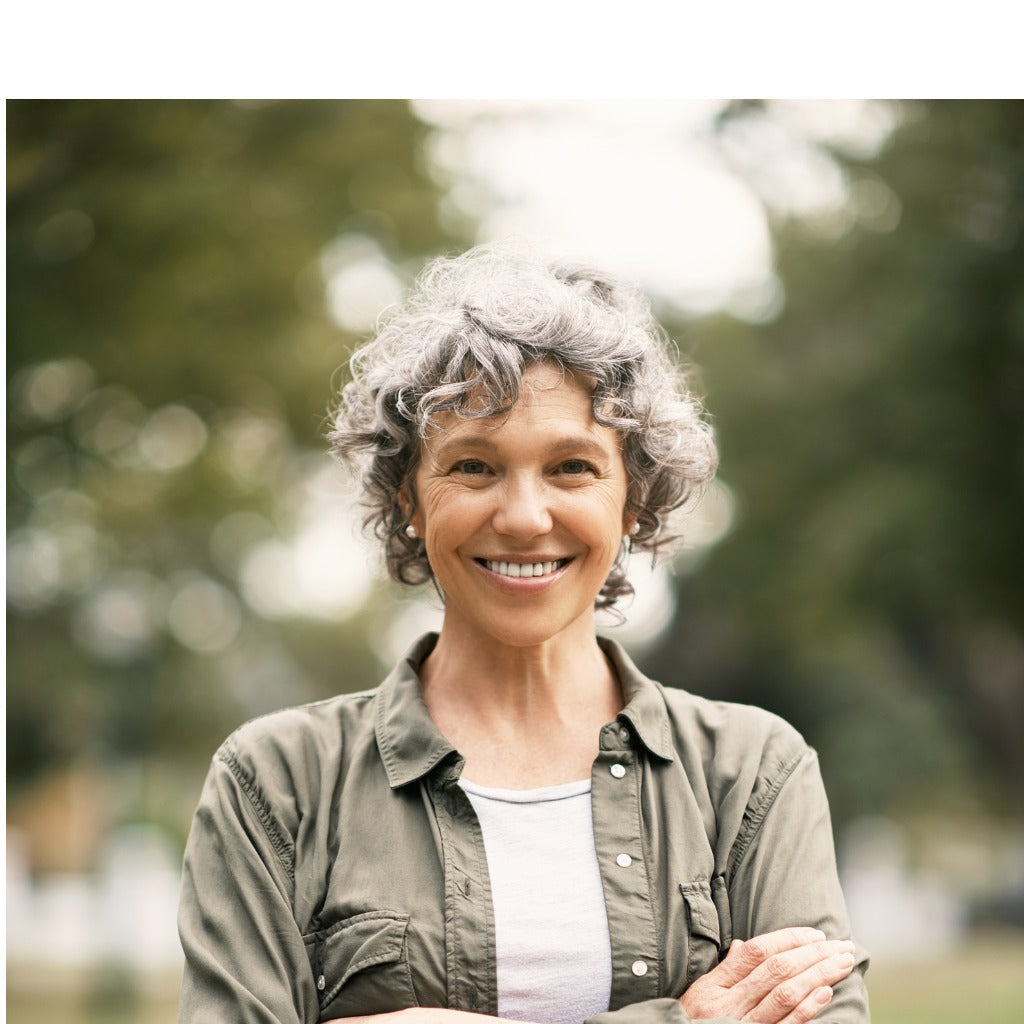 Curl Care for (Dry) Grey Hair — Tips for Curly Grey Hair Over 50
Grey, silver, and white hair is elegant and handsome. Refined. To some it represents a certain point in their life, even a source of pride. Those with grey or silver hair will likely tell you- it is dry and needs extra care, a.k.a. moisture.
Why we get grey hair
When your hair changes to grey or silver is largely due to your genetics and age. Melanin present in hair follicles is what promotes hair color, and when your body stops producing melanin, the hair can become grey, white, or silver. Unfortunately, for us curlies, melanin also provides moisture, so as production decreases our hair becomes drier. 
Many people, most often women, have had dramatic changes to their hair due to hormones. It is very common for women's hair to become curly during puberty, pregnancy, or menopause. The same is true or greying curly hair. Whatever the cause, we're here to break down our top tips for caring for greying curly hair to achieve maximum health and beauty. 
If you want to prevent or slow the greying process
Keep lifestyle and health factors in check. Dr. Robert Shmerling, Senior Faculty Editor, Harvard Health Publishing discusses how underlying health conditions such as thyroid issues, lack of vitamin B12, iron, and iodine could cause hair to grey- even prematurely. Though it has not been shown as a direct cause, National Institutes of Health state stress can affect the melanocyte stem cells that contribute to the pigmentation of hair. Smoking may also damage the stem cells that produce melanin. Smokers on average went grey three years earlier than non-smokers. Maintaining a healthy diet, getting enough rest nightly, and exercising regularly can reduce stress and potentially impact when your hair greys. 
Silver curls need extra moisture
To protect and repair grey and silver curls, it is important to consistently use the right products intended to provide curls with moisture and strength. This will keep your grey hair healthy, and healthy hair is beautiful hair. For a complete nourishing combination, we recommend our Wash Day set. This trio includes our sulfate free, low-lather, Clean Curls Shampoo, Curl Quench conditioner with hydrating natural botanicals, and Curl Rescue Leave-In conditioner for repair and damage prevention. 
Use a sulfate free shampoo. This is the advice for any curl type, whether you are greying or not, because it won't strip the natural oils from your scalp to follicle and restores your pH when cleansing. Your curls need these oils to help them form. When your hair is greying you want to protect these natural oils even more, don't let them dry up! 
Follow up with Royal Locks Curl Quench Conditioner full of natural botanicals for extra nourishment and hydration. It will quench your grey and silver curls thirst and is lightweight, giving them room to bounce. 
Our Curl Rescue Leave-In Conditioner completes this dynamic trio's Washday set. This product is made with Keravis, a multifaceted protein-based complex designed to deliver optimal anti-breakage benefits. 
In super dry climates or seasons or after damage from swimming or heat styling, incorporate a deep conditioning mask into your weekly routine. Try our Crown Deep Conditioning Mask which will make your hair feel like butter!
But, aren't I too young for grey hair? 
Similarly to wrinkles, grey hair is a normal process of aging. Just about everyone will start to notice their hair turning grey white at some point in their life. However, what if you aren't ready to say hello to the grey? We understand the concerns those little white hairs may give us when they start to pop up on our heads, especially if we are young. You might feel unsure if the image you see in the mirror fits how you think of yourself. So, what can you do? How can we feel beautiful with this new look? 
Styles & cuts for rocking greying locks
Along with using the right products, there are several styles to wear that help protect your curly hair from breakage and unnecessary damage while showing off your beautiful grey or silver locks. 
1. Loosely pull back a few strands in the top center of your head with a clip. Be careful if using bobby pins, as some are tighter than others and can break the hair when taken out. When some of the sides of hair are pulled up and back your grey curls will naturally frame your face creating pretty highlights and depth of color.
2. A soft loose bun or chignon using a tool like snap or twister will protect your hair better than an elastic.
3. Go free! A short cut like a pixie, bob, or are perfect for showing off loose grey and silver waves and curls. 
Hair color ideas to blend or cover silver curls with less damage
If you find grey/silver hair just isn't for you and are considering dying your curls we offer these tips: 
1. Extra moisture and protection is extremely important to any hair that is dyed, but especially for waves and curls. It is essential to ensure that the natural oils and bonds that help curls form are not stripped during a coloring process. Likewise, extra moisture is needed because dying hair can be drying and is more susceptible to breakage. Use our Curl Rescue Leave in Conditioner before and after a color treatment.
2. If possible, opt for alternatives to bleach such as a permanent tint instead. Bleach is particularly rough on hair and curls need all the moisture they can get. Highlights, which blend your natural grey, are one way to color less and still achieve the look you want. Bonus: lighter hair around the face can reduce the appearance of fine lines and wrinkles.
3. Dark roots add a dramatic look. This isn't the style most non silver and grey haired folks go for, so take advantage. Check out grey balayage or grey ombre for inspiration.
4. For a more creative look, consider adding a small amount of color throughout such as lilac, soft blue, or even pink.
We want to hear from you! Share your tips for curly grey hair over 50 with the Royal Locks community
Do you love your grey/silver locks? What are your tips for a curl care routine that nourishes greys and prevents breakage. Let us know in the comments below your tips for grey hair! Let's keep the conversation going on social: @royallockscurlcare (Instagram & Facebook)