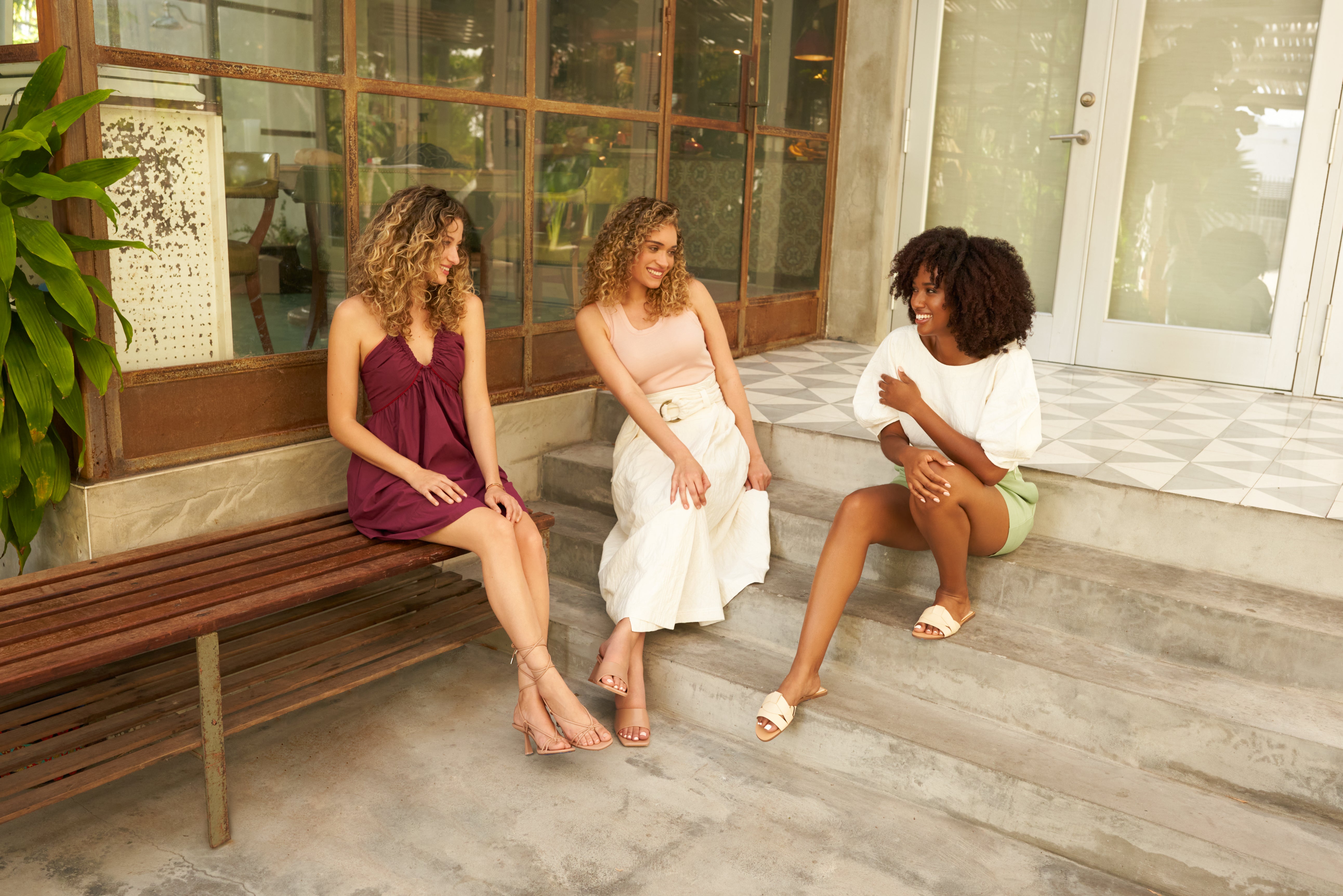 by Tiffani Douglas
Do you have curly hair but aren't sure what kind of curls you have or how to care for them? At Royal Locks Curl Care, we know curly hair can be complicated. After all, how can you properly care for your hair if you don't know your type?  Knowing your curl type has tons of advantages and having this knowledge will help you choose the best products, identify the right treatments, and apply the right styling methods to keep your curls healthy and looking beautiful. 
About Curl Types
We categorize curls into four main types - Waves, Classic Curls, Thick Curls and Coils. And though there are many variations of each of these curl types, these four types are further broken down into sub-categories which are classified by defining features, that is shape and diameter.
While curls typically have most of the characteristics that define each category, no one individual is limited to just one curl type. In fact, it is quite possible to have a combination of two or more curl types. Having more than one curl pattern is perfectly normal and it's what makes our curls beautiful and unique. But, knowing is half the battle and it is your best weapon when it comes to caring for your hair.
Now let's get into some curl talk! 
Waves
If you have wavy curls, your hair falls somewhere between straight and curly, and waves start a few inches from the root. These waves usually form mid-length and extend to the ends. For some, it can be curlier than straight, and for others more straight than curly. Either way, this tousled-looking curl type is identified by its loose "S" shape pattern. 
What it needs: Wavy hair has less sheen, and it is prone to frizz. It needs moisture and more hydration than straight hair, but it doesn't need much because too much can decrease volume and make curls look and feel less bouncy and vibrant. 
Wavy hair is often low porosity, so damp styling works well Since this texture is midway between straight and curly, it needs products with a strong hold that adds volume. Coupled with the right products, techniques such as braids, sock curls, or plopping help to define this curl texture – especially fine waves, which need the most help achieving volume. 
Lightweight moisturizers are best for wavy curl types. Lightweight leave-in conditioners, lightweight curl creams and curl gels work well. And, when choosing shampoos, gentle cleansers that are pH balanced are recommended. Check out Royal Locks Curl Care products specifically for Wavy Curls.
Classic Curls 
Classic Curls are defined as large, bouncy, loops that are wide, spiral-shaped ringlets ranging from fine to medium. These ringlets are consistent from root to tip, and they usually have a lot of volume and body throughout the hair. Though usually shiny, Classic Curls are prone to dryness, as this curl type's natural oil struggles to navigate the spiral shape to make its way down to moisturize the ends.
What it needs: Because Classic Curls are prone to dryness and frizz, they need lots of moisture, regular deep conditioning treatments, and styling products with nourishing ingredients and lasting hold that dries soft rather than hard and crunchy. Wet styling works well for this hair type as it increases sheen and adds major curl definition. Touch-up spray for moisture boosts on 2-day and 3-day curls is recommended. Classic Curls do not need daily cleansing, but when choosing a cleanser, ultra-hydrating shampoos work best to prevent dryness. Check out Royal Locks Curl Care products for Classic Curls.  
Thick Curls 
Tight spirals range in circumference from a pinky finger to a straw, and Thick Curls are densely clustered together to form tight corkscrew-like curls that have a thick, coarse texture. These springy spirals usually have lots of natural volume and movement throughout the hair. This hair texture is especially prone to dryness and frizz due to its compact nature. 
What it needs: Because of its tight curl pattern, Thick Curl textures struggle to get needed natural oils to the end of the hair shaft, and therefore it needs hydrating products that make the hair softer and more manageable. Thick Curls are stronger than most strands and since they need lots of moisture to seal, fight frizz and protect it from the heat. It can handle heavy products like creams and gels, unlike finer textures. Protective styles like "pineappling" at night help to safeguard curls from breakage, reduce frizz, prevent flattening, and maintain curl definition. Check out Royal Locks Curl Care products for Thick Curls. 
Coil Curls
Coily hair is the tightest curls of all. These curls range from very tightly coiled S-shaped curls to Z-shaped patterns. Because of its tightness, Coils can shrink up to 70% (a phenomenon known as shrinkage) making the hair look a lot shorter than it is. Coily hair can be fine or coarse texture and of all the curly hair types this one is the most fragile, and prone to extreme dryness and breakage. 
‌
What it needs: Tons of moisture all the time is critical to the health of this hair type. Coils need the highest level of moisture and hydration and products that seal the cuticle to hold moisture are ideal for this texture. Because Coils are so delicate, gentle, hydrating cleansers are a must, and co-washes (conditioner-only cleansing) between wash days help to maintain the maximum level of moisture. The LOC (liquid, oil, cream) moisture layering method is necessary to help lock moisture into this super dry texture type. Deep conditioning treatments, heavy creams, oils, and hydrating products that contain nutritious botanical oils for hair and scalp are vital to maintaining healthy kinky hair. Check out Royal Lock Curl Care products for Coily hair. 
Now that we've discussed the different types of curly hair, you should have a pretty good idea of what type or types of curly hair you have. Remember, it varies so you could have a combination of different types of curls. 
Let's Recap
Let's talk about the types of products you need for your hair type. 
Wavy 
Wavy curls need products that fight frizz, help retain shape and give volume all in a lightweight formula. Our Dream Cream moisturizes, adds definition, and controls frizz. Try Clean Curls Shampoo for gentle cleansing that won't strip your hair's natural oils. Check out our full line of products for Wavy Curls.
Classic Curls
Classic curls need styling products that infuse moisture and hydrate. Our Pro Curl Cream Gel defines curls, moisturizes, and tames frizz while enhancing your natural texture. Check out our full line of haircare products for Classic Curls. 
Thick Curls 
Thick curls need products that hydrate, moisturize, fight frizz, and define curls. Our Curl Hydration Set is perfect for cleansing, styling and moisturizing thick curls for days you want to skip styling. Check out our full line of haircare products for Thick Curls. 
Coily Curls
Coily curls need intense hydration to fight dryness to maintain a healthy moisture balance. Our Curl Quench Conditioner protects, hydrates, and repairs damaged hair. It also cleanses coils as a "co-wash." Check out our full line of haircare products for coily hair. 
Celebrate Every Type of Curl 
No matter what your curl pattern, your hair is part of you and it's what makes you unique and gives you personality, so celebrate them! Whether your curls are big, loose ringlets, or tight versatile coils, you can achieve the styles you want and revitalize the health of your curls with the right Royal Locks Curl Care products.