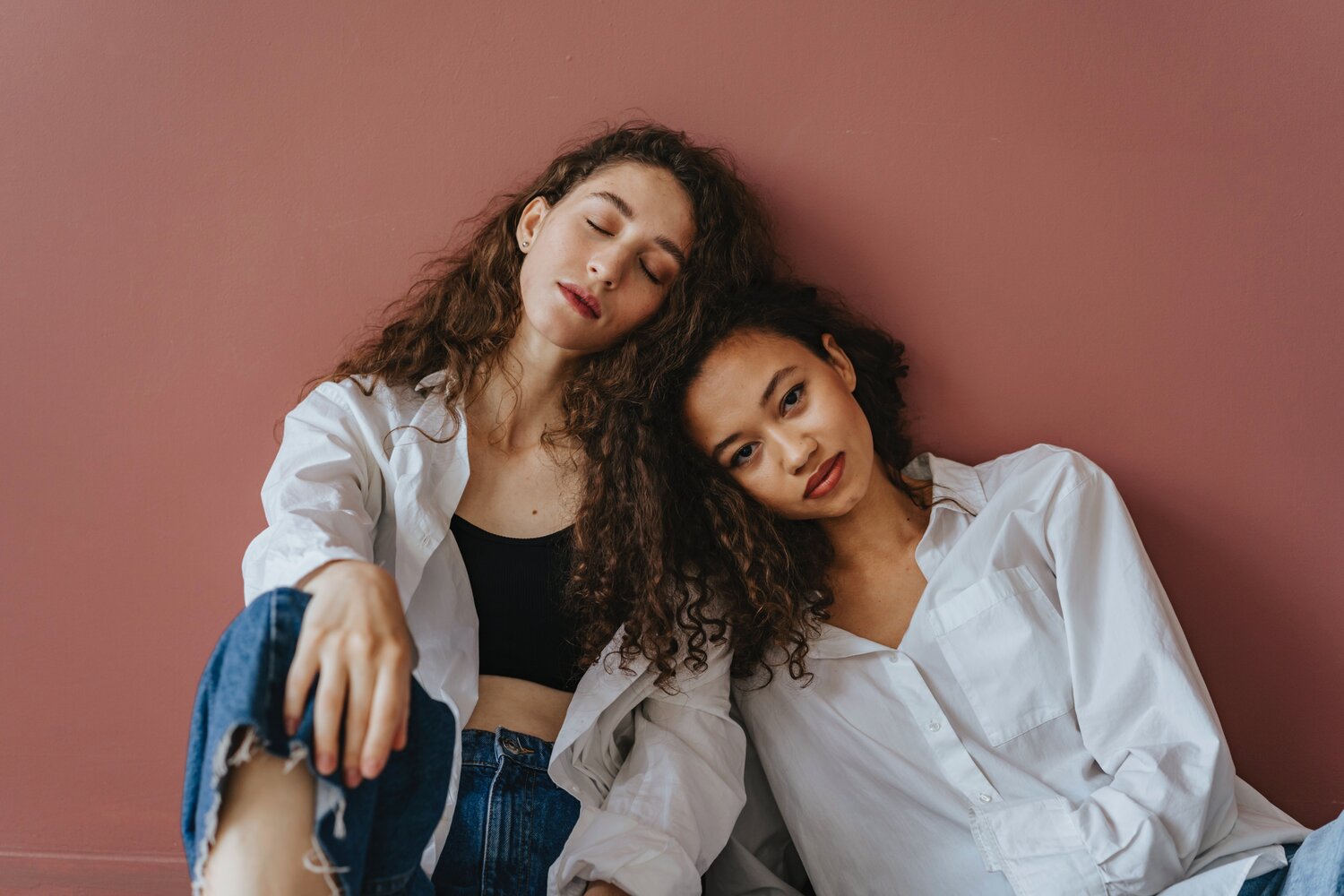 Loving my curls for the unique, lively shape that they take was a journey deeply connected to my love for myself. Over the years, I learned how important it was to me to feel comfortable in my own skin. To be able to look in the mirror and feel empowered is a priority for me. As someone who's always been known for being a dreamer who marches to the beat of her own drum, my hair suits my personality. 
"Good Hair"
I sometimes think about being nine years old, walking down the street with my mom. She stopped suddenly and was staring at a poster inside of a hair salon. When I walked back and looked up at her one word came out of her mouth - "wow." 
I had no idea what the big deal was, and replied back with just as simple of a response - "what?" Little did I know that that was the first time my mother had ever seen a woman of color with curly hair as a spokesperson for what constituted "good hair." She, herself, had transitioned away from dreadlocks into a short afro that she cared for on a daily basis. I would watch her fuss in the mirror with a comb, trying to get the right shape. To me, she was the most beautiful woman in the world - curls and all. 
My Natural Hair
It took me a long time to fully enjoy my curls, despite being in a household that promoted it. I grew up in a predominantly white neighborhood, and was full of envy toward my friends that had naturally pin straight hair. It seemed to me that they could brush through it a few times, and be ready to go. When I did wear my hair natural, other kids would often take it as an invitation to touch my curls. Though I was never someone who minded attention (I was a theater kid after all), it made me feel alienated and different than the people around me. 
In the years to come, my curly hair felt like an enemy. I would do everything in my power to control it. After I would take swimming classes at the YMCA, I would stick my hair underneath one of the hand dryers and brush my hair at the same time. I didn't even want to walk home to give them time to air dry. I bought my first hair straightener at the mall when I was twelve years old, and I would wake up two hours before school every day to tame my curls for the day. 
Then, at a certain point, I realized that my curls were a part of my roots as a bi-racial woman. I decided it was time to find ways to repair my curls, and give them a chance to glow on their own. The more I yearned to connect with my ancestry, the more invested I became in giving my curls care. 
Repairing the Damage
Going back to my curly hair wasn't as simple as I thought it would be. Not only were my curls damaged from me using heat styling tools for years, they were also cut in a way that made my curls weighted and unable to hold any volume. Even when I first started trying to let my hair dry naturally, the hair would be inconsistent in its texture. I felt like I never knew what I was going to get, and would get frustrated trying to decide which products to use. Lots of the products designed for kinky hair were too thick for my hair, whereas other products for "all hair types" didn't seem to combat any of my frizz. 
I decided to try my luck at a different hair salon, where I met Camilla. She was running her hands through my hair with a furrowed brow, trying to decide what she was going to do with me. I asked her to cut it around the same length, because I liked when my hair felt long, and that I would like to leave with my hair blown out. She responded immediately, with a gentle smile on her face - "absolutely not." She convinced me to add layers into my hair, took care of my damaged ends, and diffused my curls. When I looked in the mirror, my jaw dropped. 
Bouncy curls covered my whole head. I couldn't help but feel like Cleopatra Jones (whom I was partially named after) on her way to take down the bad guys. I had no idea that my curls even had the potential to look that way, and I had never felt so confident. Finally, I felt excited to find ways to keep my curls feeling healthy and full of life. Camilla herself wasn't bi-racial, but an Eastern European woman blessed with a mane of giant coily curls. She leaned over my shoulder, smiling, and said "us curly-haired women have to take care of each other."
Loving My Curls As They Change
As I get older, my curls seem to grow up too. I've also found a very sweet little patch of greys on one side of my head that seems to grow by the second - especially after the past year. Though my journey to loving my curls was related to my own cultural identity, it seems to be a universal experience for many women with textured hair. The idea that curly hair is unruly, or "messy" is something that affects women of all races, ethnicities and creeds. We're strongest when we band together to accept and love every part of who we are. 
I still like to mix my hair up every once and a while. Sometimes blow drying or straightening my hair feels like a fun way to keep things interesting. The difference now is I'm not doing it to try to hide any side of myself, and I always use heat protectant products to prevent any damage. 
I'm grateful to live in a time when products like the ones at Royal Locks exist. Designed for curls of all kinds, it's exactly what my younger self could've used. With a little love and care, curls of all kinds have the chance to shine in their own way. Embracing my roots, and my identity, was partly made possible through my journey to love my curls. All I can hope is that you find the same comfort I did, no matter where you are in your own hair care journey.